First of ScotRail's new electric trains take to track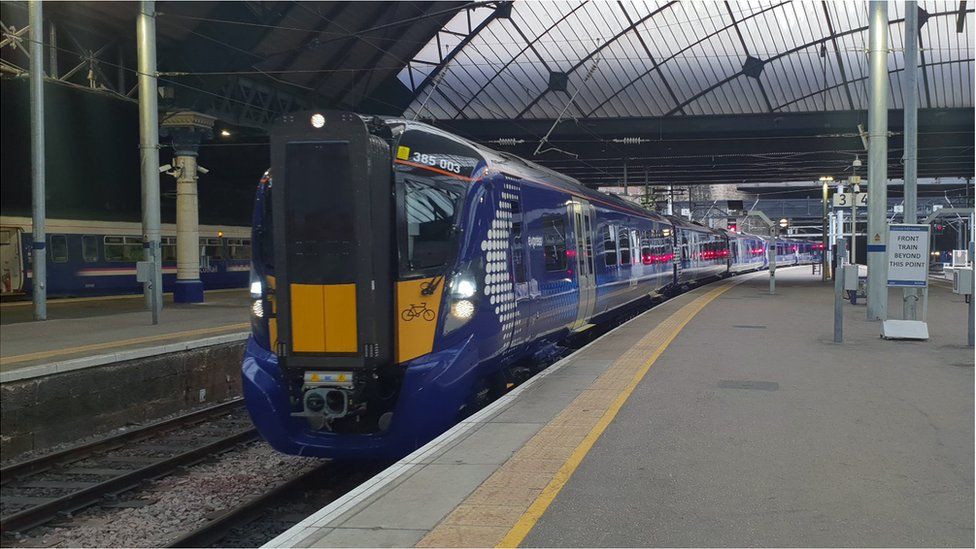 The first of a new generation of electric trains has taken to the tracks in Scotland.
A class 385 Express train left Edinburgh Waverley at 05:55, bound for Glasgow Queen Street.
It is the first of 70 new electric trains which are expected to be running in the central belt by early next year.
Rail leaders are predicting that the introduction of the trains could have a transformational effect on Scotland's rail network.
The Hitachi trains - which are said to be "light, spacious and modern" - were meant to come into service in March.
Their introduction was delayed after drivers raised concerns about the design of their windscreens. ScotRail has said it is now satisfied that the trains are safe.
Alex Haynes, the managing director of The ScotRail Alliance, said the introduction of the new trains will "trigger the transformation of the quality and capacity of Scotland's rail network".
He said he hoped that two new trains a week will be introduced to the ScotRail fleet over the next few months, before all 70 are in operation early next year.
It is part of a plan to reduce journey times between Glasgow and Edinburgh to 42 minutes by next year, and to provide 100,000 seats across Scotland every week day.
ScotRail said the trains are also greener than their predecessors, as they are 18% more energy efficient than the diesel trains they are replacing.
The train firm ordered 46 three-carriage and 24 four-carriage sets of the 385 trains from manufacturer Hitachi as part of its £475m investment in rolling stock.
Although they will service routes in the central belt, Mr Haynes said every part of Scotland will benefit from the investment.
"There isn't a part of Scotland which doesn't benefit from this investment programme," he told BBC Radio Scotland.
"The introduction of these electric trains on these newly electrified routes gives us the diesel trains which we can then send to other places - the Borders line, the lines from Fife, the north east.
"That enables us to operate more seats for customers, 200 extra services a day. There isn't a single part of Scotland that isn't touched by this record investment programme."
Routes for new electric trains
Edinburgh - Glasgow Queen Street via Falkirk High
Edinburgh - North Berwick
South Glasgow suburban routes - Cathcart Circle/Lanark
Glasgow/Edinburgh - Dunblane/Stirling/Alloa
Glasgow - Falkirk Grahamston via Cumbernauld
Glasgow Central - Edinburgh via Shotts
The disruption was caused when some class 170 diesel trains reached the end of their lease period before the new electric trains became operational.
Mr Haynes apologised to customers for the inconvenience but he added: "This upgrading of Scotland's railway network, the record investment in Scotland's railway, £2bn in these short few years, the pain really will be worth the gain.
"We're slashing journey times, we're providing more seats, we're providing brand new trains and more services and it really will mean in the next couple of years, the look and feel of Scotland's railway, the quality and capacity of Scotland's railway will be very different, much improved to today."
Network Rail Scotland has invested £858m in the programme, which included upgraded stations and the redevelopment of Glasgow Queen Street.
Related Internet Links
The BBC is not responsible for the content of external sites.