Water help for communities 'running dry' after heatwave
By Kevin Keane
BBC Scotland's environment correspondent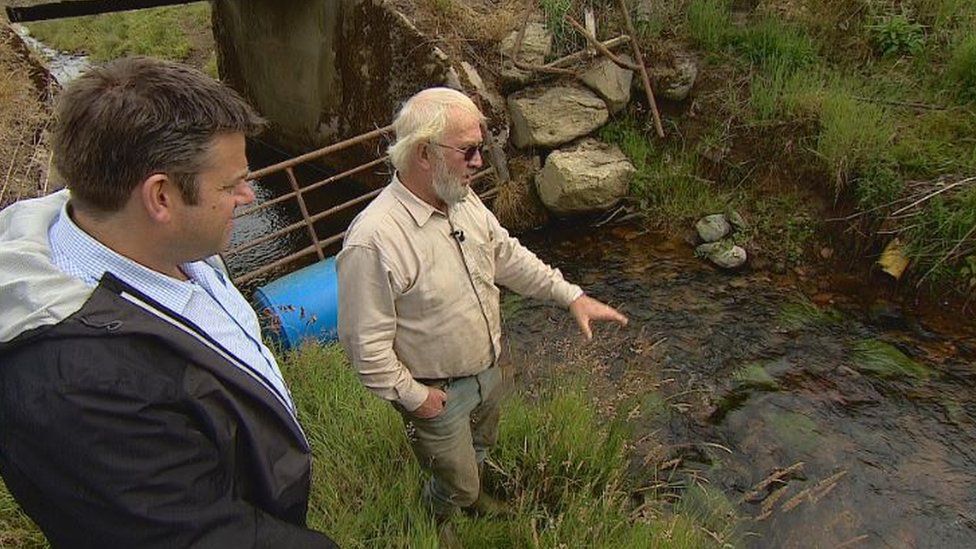 Help is being offered to people on private water supplies whose springs and wells are drying up because of the warm weather.
About 4% of Scotland's population is "off-mains" and the Scottish government says there is a growing risk of them running dry.
Ministers will make funds available to local authorities to provide emergency water to affected communities.
Solutions range from bottled water to temporary connection to water mains.
Finance Secretary Derek Mackay said: "An adequate supply of drinking water is something that most of us take for granted. However, for those who are not connected to the public supply, this is not the case particularly in prolonged dry periods.
"We are determined to ensure that no one goes without drinking water because of the current dry spell. For this reason, I have confirmed to local authorities and Scottish Water that the Scottish government will cover the additional costs incurred where emergency supplies need to be provided."
Most of those with private water supplies live in rural areas in the north-east and south-west of Scotland.
Warnings have already been issued in some areas for residents to use water wisely by, for example, using a watering can instead of a hose in the garden.
Aberdeenshire farmer Sandy Tulloch has seen his supply drop significantly in recent weeks and is having to ration water use.
He told BBC Scotland: "The water is in dire straits really, we need to get rain pretty quickly and we need to get some heavy rain.
"We have to be very careful with the toilet which is flushed just when you have to. The dishwasher is on every second day on an eco-cycle, which is ten litres, the washing machine is on every second or third day and you just have to be very, very careful."
Mr Tulloch's supply comes from a spring and he believes it will run completely dry within a week. That has not happened on his farm at Lumphanan since 1976.
Efforts are underway to keep mains supplies topped up across Scotland by moving water around in tankers and extracting extra water from rivers.
Three new pumps, which extract 200 litres per second, have been installed on the River Spey near Fochabers.
It is then pumped to a water treatment facility which supplies 20,000 properties in Moray.
Scottish Water operations manager Kes Juskowiak said: "The river levels are low and if you go back to the gauging stations, using Sepa information, you go back to 1954 before you see the river at comparable levels."
Unlike Moray, most of the country is supplied by upland reservoirs and Scottish Water says it has no immediate concerns about security of supply.
Residents who think they might be affected are asked to contact their local authority to seek assistance.
Related Internet Links
The BBC is not responsible for the content of external sites.