Why US presidents love to play golf in Scotland
By Magnus Bennett
BBC Scotland News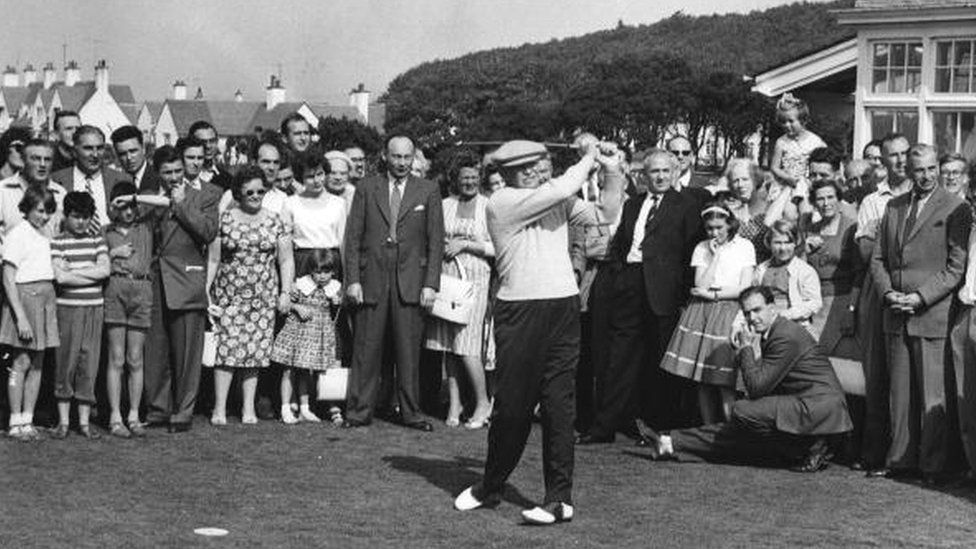 If Donald Trump were to have a rough time in Scotland this weekend, it wouldn't be a first for a US president - at least on the golf course.
Mr Trump is expected to take to the fairways of Turnberry on Saturday as protests about his visit echo around parts of the UK.
His love of the game is well documented - after all, he owns 17 clubs around the world, including two in Scotland.
When he tees up on his own Trump Turnberry course, he will be the second sitting US president to do so.
The first? Well, that would be golf fanatic Dwight D Eisenhower, who took on Turnberry during a weekend stay at Culzean Castle, Ayrshire, in 1959 after talks in Paris with General De Gaulle.
He would have been well prepared for his encounter with the course, having installed a green outside the Oval Office.
But it wasn't Eisenhower's first brush with the rough in Scotland.
While still a US general in 1946, he was pictured playing in military uniform at St Andrews.
Since then, Scotland seems to have become a magnet for US presidents, with each recognising the nation's importance to the golfing world.
Bill Clinton has played golf here on more than one occasion since stepping down as president in 2001.
Later that year he made a surprise visit to St Andrews for a round of golf over the world-famous Old Course.
Mr Clinton, who played off a handicap of 12 at the time, said shortly before he teed off: "I am looking forward to this, it is very exciting for me.
"I have only seen it on television but I have played every one of these holes in my mind countless times."
He managed to hit an 86 on the day - 14 over par for the course.
The former president had played Loch Lomond Golf Course a few days earlier, carding a 90.
Arriving at a hotel for an engagement that evening while still wearing casual golfing clothes, he told reporters: "It's lovely. I'm glad to be back.
"I have had a wonderful time - it's a beautiful day. It's a little warmer than I thought it would be."
All but three US presidents since William Taft (1909-1913) have been golfers - the exceptions being Herbert Hoover, Harry Truman and Jimmy Carter, according to Golf Monthly
The last time a non-golfer beat a golfer to the US presidency was 1976, when Jimmy Carter defeated incumbent president Gerald Ford
Woodrow Wilson played a reported 1,200 rounds of golf during his eight years in office
Franklin D. Roosevelt was a keen golfer until he contracted polio in his late 30s
Trump has in recent years listed a very low handicap of 3 - although it is thought he has not produced a signed scorecard as proof
John F. Kennedy averaged 80 on the course despite chronic back pain
Barack Obama was another former president to pay homage to the home of golf after taking on the Old Course during a brief visit to the UK in May 2017.
He promised to return to experience "real" Scottish weather after playing golf in 26C (78.8F) heat.
He joked: "I promise you I will be back because, unless it is raining and blustery, I will not feel I have got the full Scottish experience."
George W Bush, another big golf fan, also had his moment at Gleneagles 13 years ago - but it wasn't on the fairways.
In 2003, he stopped playing the game in the wake of the bombing of the UN headquarters in Baghdad, saying later that he didn't "want some mom whose son may have recently died to see the commander-in-chief playing golf".
But even if he'd been tempted to sneak on to the Gleneagles course, away from the prying media, events were to conspire against him.
His visit to the G8 summit at Gleneagles in July 2005 coincided with the 7/7 terrorist bombing atrocity in London, in which more than 50 people died.
And any chance of a swinging a club was gone after he collided with a police officer during a bike ride on the grounds of the hotel, which left him with scrapes on his hands and arms.
It's not just presidents who have been tempted on to Scotland's fairways.
Remember Dan Quayle? The former vice-president has played numerous times in The Alfred Dunhill Links Championship, including at St Andrews and Carnoustie.
In 2012, he was quoted in the Courier's Fife addition as saying: "It's a very special place, golf in Scotland.
"I always try to be positive, with a smile on my face.
"Sometimes it's easy, sometimes it's not.
"You always try to approach it thinking that the next shot is going to be the best shot you've ever hit."