UK heatwave: Police Scotland issues open water warning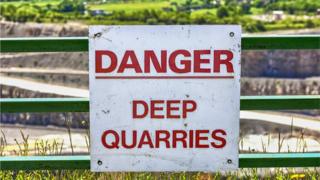 Police are highlighting the dangers of open water as Scotland heads into another warm weekend.
Saturday is expected to bring temperatures of up to 26C and Police Scotland are reminding people to stay safe.
In a stark warning, police say lochs and disused quarries can prove potentially fatal.
Cold water can lead to cramps and shock and unseen objects beneath the surface can cause major injuries.
Police also say the hot temperatures can make it very tempting to jump into open water but a number of recent incidents have shown that the consequences can be devastating.
In May, 28-year-old Mark O'Brien died after jumping into water at Craigiehill quarry in Ayrshire.
Supt Carol McGuire, who leads on specialist operations including the Dive and Marine Unit, said: "We've been enjoying the warm weather for a few weeks now and many people are looking for ways to cool down.
"However there have been a number of tragic incidents involving people swimming in open water and I want to raise awareness of the dangers, particularly in lochs and disused quarries.
"Open water can be extremely cold and can cause your body to cramp, some people even go into shock. Very cold water can also have an impact on your ability to swim and you could tire out quicker than normal."
Alcohol and water
She added: "Open water often looks calm on the surface but once you jump in you could become trapped by strong undercurrents or injure yourself on unseen objects beneath the surface.
"If you're with friends and under the influence of alcohol, it might seem like a great idea but you are putting your life at risk.
"We would urge people to take note of the signage in areas which clearly states that you should not enter the water. These signs are there for your safety, so please, don't think that you know better.
"There are plenty of options for people to go for a swim in a safe and supervised environment. Don't put your life at risk by jumping into an open water area."
Assistant Chief Officer David McGown, the Scottish Fire and Rescue Service's director of prevention and protection, said: "We want people to have an enjoyable summer and have fun, but safety is our top priority.
"What might start as a harmless dip can have tragic consequences if the proper advice isn't followed.
"Very cold temperatures can also affect your stamina and you may find your strength and ability to swim deteriorates rapidly.
"It's also important to remember not to enter the water if you've been drinking alcohol - alcohol and water don't mix."
The Scottish SPCA has also issued a warning to keep pets safe in the hot weather.
The animal welfare charity has seen an 80% increase in calls to their helpline regarding dogs in hot cars.
It is asking people to avoid leaving pets in cars, even for a short time.
Other hot weather advice includes taking pets for walks in the morning or evening to avoid red-hot pavements, water-soaked bandanas, paddling pools for dogs and ice cubes and frozen ice packs to cool down smaller pets.