Easter promotion breached junk food rules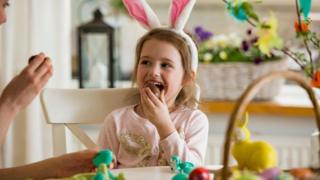 An online promotion from Cadbury's and the National Trust for Scotland breached new rules on marketing junk food products to children.
Last year, the Advertising Standards Authority brought online promotions for products high in sugar, fat or salt into line with broadcast media rules.
The ASA has now said Cadbury's and the trust breached the new code.
It ruled that a downloadable storybook and activity pack on an Easter-themed website were aimed at children.
The watchdog said that the website itself, on which the downloadable content featured at the end of March, did not breach the rules as it was "directed at adults through its presentation and content".
It said the website was primarily focused on providing information about the Cadbury-sponsored Easter Egg Hunts at National Trust for Scotland properties.
Purple egg
The ASA said the downloadable content was also accessed "predominantly" by adults but the storybook and activity pack "were specifically created as content for children under 16 years of age".
It said the storybook, entitled "The Tale of the Great Easter Bunny", featured an image on its cover of the Easter bunny wearing a purple waistcoat and holding a purple egg.
The activity pack, entitled "Eggciting activities", featured an image of a rabbit holding a Cadbury-branded purple egg on its first page, with smaller Cadbury-branded purple chocolate eggs and Easter bunnies alongside.
The watchdog said the ads must not appear again in the form complained about.
Cadbury, which is owned by Mondelez UK, said that all their promotional campaigns were targeted at parents and adults rather than children.
The National Trust for Scotland highlighted that while the website related to their joint promotion with Cadbury, the downloadable content did not contain reference to their name, logo or events.