Hyperloop students speed into the future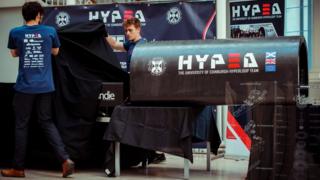 A team of students from Edinburgh University has unveiled its prototype for a new type of high-speed transport.
Its vehicle for the proposed hyperloop system will be the only UK representative in an international competition run by Elon Musk's SpaceX corporation.
The hyperloop concept involves magnetically levitating pods carrying passengers at hundreds of miles an hour. There are no windows because the pods travel down a steel tube in a near vacuum.
Several companies are vying to take the concept to the mass market. Not content with creating reusable rockets, SpaceX has constructed a hyperloop test track in California.
The Edinburgh students are heading there to race their capsule against prototypes from around the world.
Going on your holidays in a windowless pod travelling at hundreds of miles an hour inside a vacuum tube may not be your idea of fun, but Adam Anyszewski says hardly anyone looks out of the windows when travelling by plane.
Adam is president of Edinburgh's hyperloop team, known as HYPED.
He says: "It's a new mode of transport that's more energy efficient, less costly per mile to build and later on maintain and upgrade."
"The speeds could get you from the Central Belt to anywhere around London in 40 minutes.
"It promises to kick our transportation system into the 21st century."
The prototype capsule they have created has taken shape in a university workshop. It most resembles a bobsleigh, albeit one with no way of looking out or steering.
It's long, low and glossy black, festooned with sponsors' logos.
Those sponsors and the university have helped meet the considerable cost of creating a highly sophisticated machine.
The students have given thousands of hours of their spare time to design, develop and build it.
Maisie Edwards-Mowforth is a second year mechanical engineering student and HYPED's chassis project manager.
She explains the reason for the glossy black finish: carbon fibre.
"We're using it for the strength-to-weight ratio so we can go a lot faster if the pod is a lot lighter.
"It's kind of a pain to make. It takes a lot longer than just buying aluminium channel but weight saving is the main reason - and the strength of carbon fibre as well."
The project is now in its third year and involves well over 100 students.
It has produced a prototype pod before but the latest one represents a leap forward.
Eliminate air resistance
Think of it like a train that hovers just above the rails to avoid the drag of friction. A linear motor drives it forward. The SpaceX tube track, enclosing an almost total vacuum, will eliminate air resistance.
Sophisticated electronics and programming have been designed to ensure a stable ride.
"The ultimate criterion is speed," Adam says.
"But we have diverted slightly from just achieving the top speed.
"We are trying to build something that could actually prove the technology rather than just make a carbon fibre bullet on wheels like some teams do, just to win the competition."
The idea of a "vactrain" dates back more than a century. It was first proposed by the American physicist and engineer Robert Goddard, better known for his pioneering work in rocketry.
The concept was given new life by Elon Musk. His SpaceX and Tesla corporations produced a white paper laying out how it could work.
The global competition represents a bold new attempt at innovation, effectively crowdsourcing it.
Success is not guaranteed. Some seemingly groundbreaking transport concepts such as monorail have only seen niche success at best. Others, like Scotland's Bennie Railplane, never got past the prototype stage.
Whatever ultimately happens with hyperloop, it is already benefiting the team members - and not just science and engineering students.
HYPED is an interdisciplinary project that also involves students from disciplines like law, marketing, art and business. Members come from many nations and from every school at the university except divinity.
A spinout company has now been set up to take the technology towards the market. Adam says hyperloop could be integrated with other transportation systems.
It appears the future could be arriving at great speed.