Green light for new Meadowbank sports centre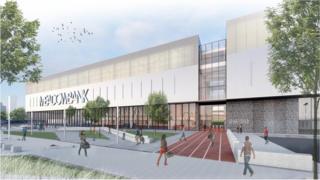 Plans to build a new sport centre on the site of Edinburgh's Meadowbank Stadium have been approved by planners.
The £47m sports facility will replace the existing Meadowbank, which was built for the 1970 Commonwealth Games but closed in December.
More than 3,000 people signed a petition objecting to the plans which include proposals for hundreds of homes to be built on surrounding land.
Planners agreed "in principle" to the wider development of the site.
But they promised a "meaningful consultation" to make sure they got it right.
Elaine Scott, the council's housing services manager, apologised for flaws in the initial consultation with residents and groups.
She said that the consultation process had "fallen short with what is needed" and that the failings were "unintentional and regrettable".
The masterplan process will start with "a blank slate" in terms of housing and commercial use, the council said.
Construction of the council-funded sports centre project could start before the end of the year.
It will include a 3G football pitch in the centre of the running track, an indoor athletics track and an outdoor throws area.
The proposals also feature badminton courts, a gymnastics hall, a gym, studios, a cafe and offices.
Council leader Adam McVey said: "When this council set its budget, we had some tough decisions.
"We knew that the old venue had reached the end of its lifespan but despite the budget pressures, we agreed that investment in this new facility and the benefits it will bring should be a priority for the city and for the coalition."
The SNP councillor said the decision to approve in principle development of the wider site would support the council's strategy for building affordable homes.
"We'll now kick off a meaningful, comprehensive consultation after the summer to make sure we get this right," he said.
Campaigners from the Save our Stadium group protested outside City Chambers before the meeting and were disappointed the site will be carved up for housing and other uses.