TV channel STV2 goes off air for final time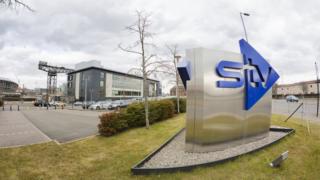 STV2 goes off the air for the final time on Saturday night after bosses pulled the plug on the free-to-air television channel.
Commercial TV broadcaster STV decided to close its loss-making second channel after a strategic review.
The company said its local TV licences had been sold to a company which runs local stations south of the border.
The business - called That's TV - has still not announced its plans for Scotland.
Compulsory redundancies
STV announced a total of 59 job losses in May - some were the result of the closure of STV2 while others were because of a restructuring of its news operations.
Journalists have voted to take strike action if there are compulsory redundancies.
However they have put the threat of action on ice amid hope that these can be avoided.
Although STV's moves have been condemned by politicians, the company's share price has gone up by a third since the strategic review was announced.
An activist investor - Crystal Amber - is continuing to build its stake in the firm and is its biggest shareholder.
STV has denied the changes it is making are in preparation for a sale to ITV plc which runs the rest of the Channel 3 network.
STV2 has only been on the air for a year but grew out of local services targeted at Glasgow and Edinburgh.
Separately, the communications watchdog Ofcom gave its final approval to BBC Scotland's plans for a dedicated TV channel earlier this week.
The new channel will start in February.
The size of its planned budget is far in excess of the amount which was being spent on STV2 and its editorial remit is different.