Home Office to meet Glasgow 'hunger strike' family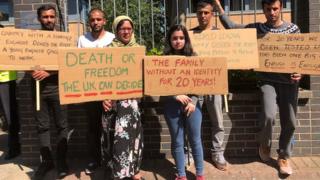 A family has been granted a meeting with Home Office officials after staging a hunger strike outside an immigration centre.
The Kamils say they have been in "limbo" for the last 18 years pending a decision about their legal status.
Originally from Kurdish Iraq, the asylum seekers told BBC Scotland they wanted the Home Office to rule on their request for permanent residency.
They said the uncertainty was affecting their plans to work and study.
The family began their protest on Wednesday evening outside Home Office premises in Brand Street, Glasgow.
Boxing champion
They were granted leave to remain in 2012 after a request for asylum was refused.
BBC Online understands their most recent application five years ago had been hit by legal delays.
The youngest family member, 18-year-old Banez, said she could not start her studies in law because of the situation.
Her older brother Daban, a mechanical engineering graduate, said he had had job offers rejected as a result.
Dastan, 19, is a Scottish amateur lightweight boxing champion but fears the issue could affect his career.
An elder brother, Serbaz, 32, who runs an online business, told the BBC Scotland news website: "We are here to fight for our rights - and that right has been taken off us.
"We deserve, like every other human, basically to get permission to stay in the country.
"We've not had that - we've been in the country from 18 years, some of the family.
"We believe they have dismissed us. They treated us very unfairly.
"We are here on hunger strike to give us some sort of decision."
'We want answers'
He said the uncertainty was now holding his brothers and sisters back.
He said "As a family, we want to be successful. We don't want to sit on our arses doing nothing.
"We want the Home Office to give us some answers, to do something.
"We have been in the country for long enough to not even think about returning back home."
He added: "If we had been just a couple of years here we could say 'look, fair enough. you have no citizens rights - go back to your country'.
"But we don't have anything in our country (Iraq) to look forward to - no friends, no family because we left everything when we were so young.
"We feel this (UK) is our country. And I believe we have done a lot for the country.
"My brother has represented Scotland as a boxer. Another brother graduated as an engineer.
"My sister wants to study law in Scotland. I have a successful business in Scotland."
'Great urgency'
A spokesman for the family later said they had been offered and had accepted a meeting with the Home Office next Thursday.
Scottish Labour MP for Glasgow North East Paul Sweeney has taken up the family's case with the Home Office.
He said: "I hope that we are able to provide clarity for the family, who were first granted leave to remain in 2012.
"The matter is now of great urgency, to enable the youngest member of the Kamil family, Banez, to take up her place to study law at university this September.
"While I accept that the system requires certain procedures to be followed, we must not accept a bureaucracy which fails to recognise that these decisions affect real people.
"The Home Office just can't keep people's lives in limbo for years at a time like this."
A Home Office spokeswoman said: "We are currently reviewing the family's application, and have invited them to a meeting to discuss their cases."