MSP dropped as new minister over 'offensive' blog post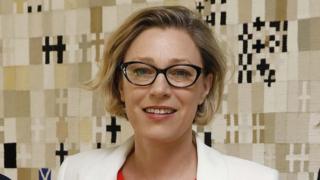 One of Nicola Sturgeon's new ministers has lost her job before even being confirmed by Parliament over blog posts deemed "offensive and inappropriate".
Gillian Martin, named as a junior education minister on Wednesday, wrote about "hairy knuckled, lipstick-wearing transgender laydees" in a 2007 post.
Opposition parties raised questions about Ms Martin's fitness for office.
First Minister Nicola Sturgeon said she would not put her forward until she had reflected on "ill-advised" posts.
And it was later confirmed that the Aberdeenshire East MSP was now out of the running for the ministerial job, with a different nominee to be announced in due course.
Ms Martin apologised "unreservedly" for the comments made in the now-deleted blog, adding: "I fully accept and understand the decision that the first minister has taken."
MSPs were due to vote on Thursday afternoon on whether to confirm the Aberdeenshire East MSP as minister for further and higher education - a role the government described as being "responsible for the key priority of widening access".
Labour put down an amendment seeking to block her appointment, and after the other opposition parties also raised concerns Ms Martin's name was subsequently removed from the motion.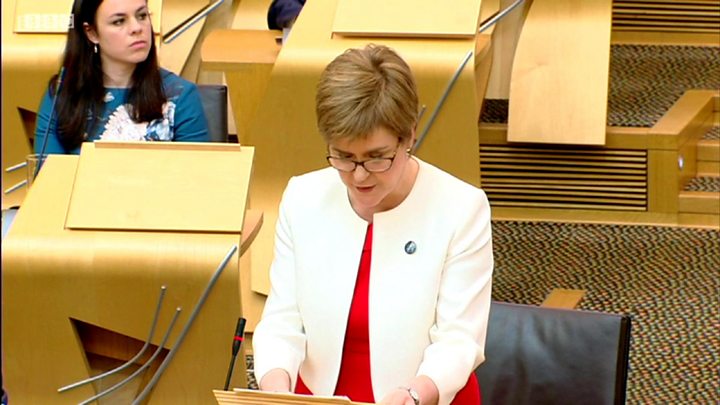 Ms Sturgeon told MSPs that "with regret" she would not be putting Ms Martin's name forward for the vote on Thursday.
She said: "This morning, information about content on a blog which was written by her more than 10 years ago have been brought to my attention. I was not aware of all of the comments that I am now aware of.
"This content, however ill-advised it may be, does not reflect the views of the person that I know in Gillian Martin. However, the content does merit my further consideration, and so I will therefore not ask parliament to approve this appointment until I have had a chance to reflect further".
All of the other new ministerial appointments were approved unanimously.
The blog first came to light when Ms Martin was running for office in 2016, and opposition parties said the first minister must have been aware of it.
Labour leader Richard Leonard said there were questions over the first minister's judgement as well as that of Ms Martin, comments echoed by Scottish Conservative deputy leader Jackson Carlaw.
In the 2007 blog post, which noted that it "may get me sacked", the former lecturer complained of "political correctness" in colleges.
She said PR staff "froth at the mouth with excitement if anyone in a wheelchair does anything that can be remotely described as an achievement".
Ms Martin described the idea of "an orphaned, single-parent, gender-confused, blind, Aboriginal, one-legged, cross-dressing, lesbian, dyslexic, ex-con, Muslim" as being the "Holy grail" for educational establishments.
And she said: "Are we going to see lovely photos in the foyer of hairy knuckled lipstick-wearing transitional transgender laydees being embraced by the principle of undisclosed college or visiting politicians for the press?"
Another post ranked the tipping habits of different races, with Ms Martin reporting that she had been told that "American Jews tip OK mostly but only if you've absolutely busted your hump" and that "American blacks" were "to be avoided" as they "don't tip at all or tip next to nothing".
The comments about transgender people were reported in the Press and Journal newspaper in 2016, during the Holyrood election campaign.
Mr Leonard told MSPs that "the first minister knew about these comments and yet chose to attempt to put Gillian Martin in charge of further and higher education".
He said: "This is not just about the judgement of Gillian Martin, it's about the judgement of Nicola Sturgeon."
Mr Carlaw said the remarks in the tipping post were "shocking", and also said Ms Sturgeon should have had a better vetting process. He said: "She's done this job long enough, thin excuses don't cut it."
He said plans "a year in the making" were going down as "the most notorious reshuffle in the history of this parliament", calling it a "deeply depressing" day.
'Glass houses'
The first minister responded that she would take these comments "on the chin", admitting that vetting new ministers was "part of my responsibility".
However, she asked members to look into "their heart of hearts" and ask if the comments on the blog reflected the person they had come to know in Ms Martin. She also warned other parties not to "stand in glass houses throwing stones".
Her spokesman later confirmed that the first minister had been aware of the post about transgender people at the time Ms Martin was chosen to be a minister, but had only been made aware of the post about tipping on Thursday morning.
Ms Martin said she had "always campaigned hard for equalities" and would continue to do so.
She said: "I fully accept and understand the decision that the first minister has taken.
"In a blog I wrote 11 years ago across a range of issues I used language that was inappropriate and offensive. I reported comments from other people which have caused offence, and made statements in a way which does not represent my views then or now.
"I deleted this blog some time ago precisely because I accepted that it contained unacceptable content - but I recognise that these posts should never have been published in the first place. That is entirely my responsibility and I am deeply sorry."
The National Union of Students welcomed the move, saying whoever is picked as further education minister should be "a champion for the rich diversity on the campuses they represent".