Surf therapy 'helps my confidence soar sky high'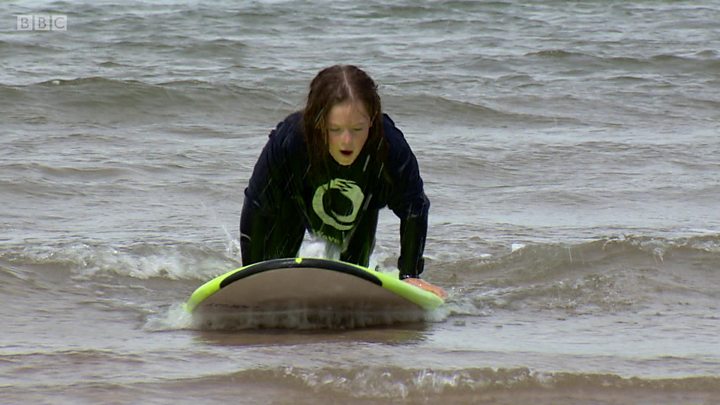 Catching a wave is no easy task and just mastering of the art of balancing on a surf board was a huge step for 19-year-old Layla Cuthill.
"I am still getting there," she says. "I've managed to stand up, going on my knees at first, then getting on to my legs. But I'm still a bit wobbly."
For Layla perfecting her technique is just part of the story. She's one of a growing number of youngsters discovering the benefits of surf therapy.
The charity Wave Project Scotland offers courses for children and young adults with learning disabilities, anxiety and depression, behavioural issues and those coping with bereavement.
On Belhaven Beach in East Lothian, Layla - who was diagnosed with autism at 17 - is heading out on the water with the other youngsters taking part in a surf lesson.
"I was really nervous when I started," she says. "But I just focus on what I am trying to do.
"When you get it right your confidence goes sky high."
The Wave Project began in Cornwall and has expanded across the UK as the demand has grown.
The East Lothian club, which has lottery funding, currently has places for 42 young people and relies on a team of volunteers who provide one-to-one coaching.
Children aged from as young as eight can be signed up for a six-week block of sessions.
Two-thirds of those currently taking part were referred to the charity by other support services working with young people across Edinburgh, the Lothians and Borders.
"Surf therapy has been shown to reduce anxiety and boost happiness," says Alison Young, Wave Project Scotland coordinator.
"It's a combination of exercise, peer mentoring, friendship...and it works."
Alison says the fact that there is "no pressure to succeed" really helps the young people.
"The difference is huge. It has a real impact. It is a fabulous thing - just getting in the water, being in the fresh air.
"You cannot come out of the sea without a big smile on your face."
And for 16-year-old Brandon Tregartha the difference has also been evident in his behaviour away from surf club.
"Before, in school, I was quite a troubled kid and I used to get kicked out a lot but since starting Wave Project I've not been as troublesome," he says.
"It helps me a lot. I'm not sure what it is about it - but it's maybe the water and doing the surfing - I find it enjoyable and it calms me down."
There is a waiting list for places at the East Lothian club and Wave Project is planning a second Scottish site at St Andrews in Fife.
Coach Martin McQueenie agrees that the "therapeutic" effect of the water itself is a big part the scheme's success.
"Whether it's the water washing over them or catching a wave at the end of the day - it's an escape from reality," he says.
"It gives them a lot of confidence, and the ability to know that they can do things if they focus properly on them and don't get too distracted by anything else.
"Equally it can distract them from the things that are maybe going on at home, or elsewhere in their lives, and they just focus on what's happening at the beach."
Martin is Layla's favourite coach and today she says she has had "a great chat" with him.
She is now looking at the difference the therapy sessions have made in her life beyond surf club.
"I'm going to be getting my own house soon and this has helped me prepare and adapt to doing things by myself," she says.
"It helps with my independence and being able to talk to people."
Before starting surf therapy, Layla used music as a way of focusing her mind and blocking out distractions.
"If I have too much going on in my head, then I normally have to put my music on straight away," she says.
"But when I come here I love the nature. I can just watch the waves. It's nice and calming, listening to the seagulls, and then going in the waves - it gives you so much confidence."