Temperatures hit 31C in Scotland's warmest June day in 23 years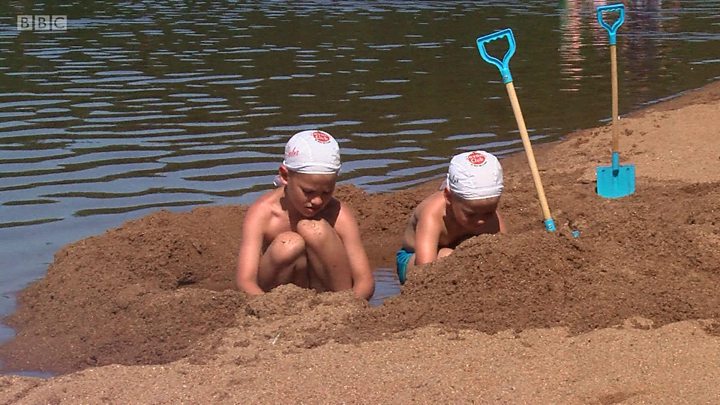 Scotland is basking in its warmest June day in more than two decades - and its hottest single day for five years.
Temperatures reached 31C in Aviemore at 14:00 on Wednesday afternoon.
Forecasters said they could climb higher before the end of the day - far exceeding the previous record of 29C hit in June 1995.
BBC Scotland weather presenter Gillian Smart said it could be a similar story on Thursday, with the mercury set to hit 31C in Glasgow.
The highest June temperature ever recorded was 32.2C at Ochertyre, Perth and Kinross, on 18 June 1893.
And in June 1986, temperatures hit 31.6C at Inverailort in the Highlands.
Last year's highest June temperature was 27.3C which was recorded at Floors Castle in the Borders.
Earlier this week, The Met Office issued a heatwave warning for England, where temperatures peaked at 30.3C in Rostherne, Cheshire on Tuesday.
Not everyone is enjoying clear blue skies and glorious sunshine, however.
Early-morning patches of mist, fog and low cloud were expected to linger along the coasts of Aberdeenshire, Angus and Fife throughout the day.
Together with an easterly breeze, it was expected to peg back temperatures to between 16C and 20C.
The hot, dry weather may be good news for sun worshippers but it's bad news for midges.
James Logan, from the London School of Hygiene and Tropical Medicine, said the dry weather causes the insects to dehydrate.
"So when the weather is very hot and the sun is out, they tend to disappear," he told BBC Radio Scotland.
"You might still get bitten in forested areas but they will stay out of the direct sunlight.
"When they lay their eggs, they lay them in damp, peaty, boggy soil and if that starts to dry up a bit there will be fewer midges around."
The prolonged period of dry weather has prompted Scottish Water to ask some customers to use their water "wisely".
On Lewis, the conditions have caused lower than normal water levels in Loch Mor an Stairr, which supplies Stornoway Water Treatment Works.
A similar appeal has been made to households and businesses served by the Badentinan Water Treatment Works in Moray.
This includes people in the Elgin, Kinloss, Forres, Burghead, Lossiemouth, Rothes, Fochabers, Dufftown and Craigellachie areas.
A Scottish Water spokesman said: "There are no areas where normal water supplies to customers have been affected by the generally dry weather across Scotland in the past few weeks.
"Scottish Water has issued advice to customers to use water wisely in two localised areas, parts of Moray and the Stornoway area of Lewis.
"The advice was issued because of prolonged dry weather in these areas, despite some recent rainfall, and (in the case of Moray) increased demand.
"Scottish Water is managing water supplies across Scotland through this extended dry period and will continue to monitor the situation closely."