How Celtic boys abuser was convicted for a second time
By Mark Daly and Calum McKay
BBC Disclosure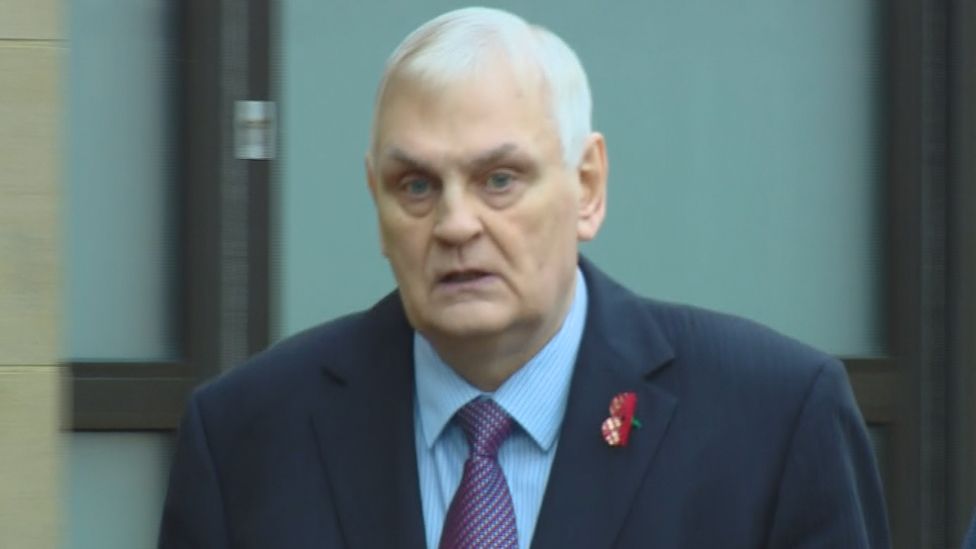 The conviction of Jim Torbett for child sex abuse for the second time marks the end of another chapter in the story of how a paedophile used football as a cover for his crimes.
Torbett founded Celtic Boys Club in 1966 as a club closely aligned with Celtic FC.
He was no footballing tactician, nor was he especially liked by his peers, but he was on good terms with the Celtic board.
Indeed it was Celtic's legendary manager Jock Stein and former chairman Sir Robert Kelly who gave the young man permission to start the boys club, using Celtic's name and colours.
It would provide the perfect cover for a man whose offending spanned four decades.
Torbett, who is now 71, would act as a father figure to some of the boys he coached.
He would buy them tracksuits, charm their parents and engender their trust.
He would take the boys to Celtic Park to watch their heroes, sometimes even sitting in the executive box, or behind the dugouts.
They would be mesmerised with his promises, and a chance to make their way through the ranks and on to the Celtic senior team's books.
But some boys under Torbett would pay a heavy price for this opportunity.
Kenny Campbell is one of them.
Kenny, now 46, joined Celtic Boys Club in 1985 as a 13-year-old. A year later, he joined the U-14s, which was managed by Torbett.
Kenny was subjected to four years of sexual abuse at the hands of Torbett, which carried on after he signed professionally for Celtic FC. Kenny made about 20 appearances for Celtic reserves.
Immediately after the programme he went to the police and became one of the key witnesses in the prosecution case against Torbett.
Ahead of the trial, Kenny told the BBC: "It's just something that I need to do.
"The thing I'm looking forward to most, is looking him in the eye, or pointing him out [from the witness box] and saying 'there he is, there', because he knows. I know he knows.
"That's what gets me through some days. He knows that what happened was wrong."
The BBC documentary also featured the testimony of Andrew Gray, though we disguised his identity.
He signed for Torbett's team in around 1989 as a 13-year-old. His abuse lasted nearly three years.
Torbett's methods in grooming and abusing Andrew bore an eerie similarity to those he deployed with Kenny Campbell - "trumped up" awards for playing, currying favour and trust with his family, and attacks in Torbett's car, flat and workplace.
Mr Gilbert accompanied Torbett every day during the trial.
It is not clear whether Torbett lied about his previous conviction in order to obtain entry to the US, but within hours of the confrontation being broadcast, US Homeland Security visited Torbett and escorted him to the airport.
He was picked up on arrival in the UK by Scottish police and was arrested and charged with abusing several boys, including Kenny and Andrew.
The Background: Free to Abuse Again
Torbett had two stints at the Boys Club, the first from 1966 to 1974.
He returned to the Boys Club in about 1978 and stayed until a series of Daily Record stories revealed abuse claims against him in 1996.
He was jailed for two years in 1998 for abusing three former Celtic Boys Club players, including former Scotland international Alan Brazil, between 1967 and 1974.
Former Boys Club chairman Hugh Birt told the trial Torbett's first spell had ended in 1974 because he was kicked out by its then honorary president Jock Stein, after allegations of child abuse emerged. The police were never called.
The BBC has spoken to three additional sources close to the events in 1974 who support Birt's version of events.
But the "official" version of Torbett's departure can be found in the archives of the Celtic View, the sanctioned, in-house magazine for Celtic FC.
Dated November 1974, the report is headlined: "Jim bows out…after another season of glory."
It states that Torbett was leaving for his own personal and business reasons and is a glowing tribute to his time at the Boys Club.
The then editor Jack McGinn told the BBC last year that all stories published in the magazine were done so in good faith, and denies allowing a false article to be published.
In 1998, Torbett was jailed for his crimes leading up to 1974. No allegations had been made about his second stint, until last year.
But if Torbett was kicked out in 1974 for abuse claims, why was he allowed to return to the club, free to abuse again?
Hugh Birt, who died five years ago, told the court in 1998 that he attempted to prevent Torbett returning to the Boys Club and raised the issue with Celtic board members, including Kevin Kelly, the son of former chairman Robert Kelly.
Two other sources told the BBC that when Torbett was allowed to return to the Boys Club in the late 1970s, Kevin Kelly would have been aware of the previous claims of abuse against Torbett.
Mr Kelly and Jack McGinn, a Celtic FC director from 1981, worked with Mr Torbett at his Trophy Centre business from 1986 and 1998 respectively.
Their associations with the company continued long after Torbett was jailed in 1998 for abuse.
Mr Kelly strongly denies being aware of allegations concerning Torbett when he returned to the Boys Club, and told the BBC that he was not aware of any previous allegations against Torbett until his court case in the 1990s.
Jack McGinn also denies any previous knowledge of Mr Torbett's offending prior to his second spell at the Boys Club.
Both Mr Kelly and Mr McGinn said that if they had been aware of Mr Torbett's prior offending, they would have done all they could to prevent him returning to Celtic Boys Club.
But it seems clear that had Jim Torbett been prevented from returning to the Boys Club, Kenny Campbell and Andrew Gray would not have been subjected to the grooming and sexual abuse which formed the biggest part of this trial.
The trial lasted more than two weeks and featured evidence from four men who said they were abused by Torbett, although the Crown withdrew the charges relating to one of those men.
Kenny Campbell was the first witness to take the stand. Because of his previous association with the BBC, Torbett's defence sought to have the two BBC journalists involved in the programme banned from the courtroom for his evidence. The motion was repelled by Judge Beckett.
In two days of emotionally fraught evidence, Kenny described how Torbett had first groomed then abused him. When asked if he could see his abuser in the courtroom, he pointed towards the man in the dock - his former mentor, Jim Torbett.
Kenny got his wish and faced his abuser in court, but Andrew Gray did not get that opportunity.
Andrew, who would have been 43, had suffered from mental health problems since he was a teenager.
Ahead of the trial he had gone to visit his best friend in Australia for a few weeks to alleviate the pressure, but broke his neck in a freak swimming pool accident.
His sister Michelle Gray travelled to his bedside while he was on life support.
She recalled: "He had said, please get me out of here and get me back to Scotland as soon as you possibly can, words to this effect, so that I can make sure Torbett gets put away for the rest of his life.
"And there was a communication made between [us] where we basically [said] if he didn't make it, that I would come back to Scotland and make sure people heard his story and do all I possibly can to make sure that Jim Torbett was convicted of the crimes that he committed and make sure this never happens again to any other football-mad child."
Andrew died 16 days later after his family took the decision to switch off his life support machine. Michelle was at his side.
She added: "It's really important that we go… and we get justice for him because he's not here.
"We'll never hear his voice again. We'll never be able to embrace him. We'll never be able to tell him how much he's loved but we can do this for him.
"I would like [Tobett] to know the pain and suffering that he caused Andrew.
"I would like him to also know that he destroyed his life and he is indirectly responsible for his death, that the course of actions that took place over the last 25/30 years and more so the last 18 months would never have happened if he had not done what he done to my brother."
During the trial Kenny and Andrew were described as liars and fantasists by Torbett, who produced as a defence witness William Gilbert, the man who tried to shield him during our confrontation in California.
Mr Gilbert had accompanied Torbett every day during this trial. When it was his turn to give evidence, his answers, according to the advocate depute, seemed "rehearsed".
This jury, rightly, did not get to hear about Torbett's previous conviction. But when they were sent to consider their verdict on Monday, they had to decide whether Andrew, Kenny and another man had told the truth about what they said their football manager - a man who had been entrusted with their care - had done to them as children.
The jury decided that they had.
Celtic FC told the BBC last year the Boys Club was a "separate and distinct" organisation.
The two clubs are separate legal entities, but decades of Celtic View magazines, and never before seen footage obtained by BBC Scotland, shows how the two clubs were intertwined.
Celtic legends Jock Stein and Billy McNeil are filmed handing out awards at a Celtic Boys Club prize-giving in about 1973, while Torbett looks on.
The distinction, though correct legally, rings hollow to the survivors of Torbett's abuse.
Kenny Campbell said he felt hurt and angry at Celtic's statement last year.
He said: "It made me really, really angry to be honest with you. They're just pleading the fifth at the end of the day."
Since going public with his claims Kenny Campbell says he has still to hear from anyone at Celtic FC.
He said: "Why not just write a letter of apology, or somebody come personally and deliver a letter of apology.
"That's all it takes. It would take nothing else.
"It wouldn't take money or motors or houses or things like that.
"Just someone to tell me 'I'm sorry' for what I've went through and sorry for what I've suffered for the past 20 or 25 years."
Jim Torbett has been jailed for six years.
His victims and their families, who were so badly let down by football, can perhaps now look for some closure.