Scotland's 'oldest' distillery and whisky brand up for sale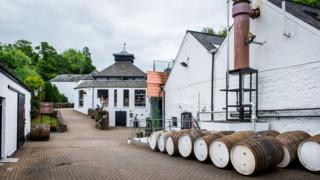 The Glenturret malt distillery in Crieff, and the Cutty Sark whisky brand, have been put up for sale by Edrington.
The Glasgow-based distiller has opted to focus investment on its single malts, including The Macallan and Highland Park.
It wants to focus its efforts for blended whisky on Famous Grouse.
It suffered a drop of around 4% in sales last year, but retained its leading position in the UK market.
The new owners will be able to develop Glenturret as a single malt brand, and to use Cutty Sark brand, which sells well in Spain, Greece and Portugal.
Tourist attraction
It was first launched in 1923 by Berry Brothers and Rudd, which sold it to Edrington in 2010. It is offering to continue blending and bottling at its plant in Glasgow, where it represents 10% of throughput.
The sale means the end of the Famous Grouse Experience - a busy tourist attraction in Crieff, Perthshire.
But Edrington hopes it will remain open under new ownership, and will be rebranded with Glenturret single malt, retaining 31 jobs at the site. It claims no redundancies are planned.
Glenturret is said to be Scotland's oldest working distillery, according to its website.
The sale was announced along with Edrington's financial results for the year to 31 March. Along with William Grant & Sons, it is one of the big Scots-based whisky distillers, with its profits going to the Robertson charitable trust, set up in the 1960s by three sisters who had inherited the company.
Core revenue was up 7% from the 2017 results, to £707m. Profit before tax rose by 3% to £195m, as the company raised its investment in marketing.
The so-called 2020 Strategy focuses on boosting the Macallan, which saw 7% growth last year. It is helped by a landmark, £140m visitor centre on Speyside, opened earlier in June, and it will have its first global advertising campaign in autumn with an £11m budget.
Orkney distillery
Highland Park, distilled in Orkney, has seen a 23% boost to marketing, with a new range and packaging, and that helped with a 15% boost in its sales.
Other premium brands owned by Edrington include The Glenrothes Single Malt - not from the Fife new town of that name but in a long-established Speyside distillery. It is now sold in 30 international markets, and will have a relaunch this summer.
The company has an interest in Tequila Partida, and it owns Brugal Rum, which saw growth of more than 10% in its core markets, the Dominican Republic and Spain.
Ian Curle, Edrington's chief executive said the market is encouraging in the near term, with all regions of the world seeing an upturn in economic growth.
He added: "While consumer trends are encouraging, the geo-political context, including Brexit, remains uncertain, Scotch whisky is a robust and successful industry but it faces increasing competition from authentic spirit categories leading to the 400-plus trade barriers faced currently.
"Against this backdrop, we want our governments to create a climate where economic development and growth is actively encouraged and rewarded."