'I was involved in dealing drugs at eight years old'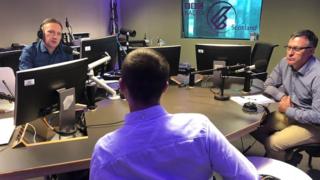 At eight years old Tommy was carrying drugs and money for his father and meeting people for deals on street corners.
As the son of a drug dealer and the "first boy in the family", a life involved in gang rivalry, street warfare and organised crime was inevitable.
"That was all I knew," he told BBC Radio Scotland.
At age 12 he saw his dad slashed in the face and by 16 he was sentenced to time in a young offenders institution.
But now the 20-year-old, who has been in and out of detention seven times, is facing a different future. He's just finished a college course and is training for a triathlon.
With the support of a Scottish government-backed scheme he is turning his life around and hoping to help others do the same.
'Became the normal'
"It's the first thing I really knew," he told the Stephen Jardine programme on BBC Radio Scotland.
"I was carrying money, carrying drugs, meeting people at corners, just really doing what my father asked me to do."
"I saw my father slashed, I saw friends stabbed - people bleeding out with a helpless look on their face.
"I had nightmares, I couldn't sleep. But as the days went by I just became accustomed to it. It became the normal."
Tommy, whose name has been changed to protect his identity, said growing up in a West of Scotland community like his, and doing what he did, meant he didn't get to do ordinary childhood things like going to the park to play football with his friends.
"I couldn't go and play in other schemes because of the gang rivalry, the drugs war was there," he said.
"Even sometimes going down the shop was a problem."
As a teenager, Tommy said he often feared for his own life and was constantly looking over his shoulder. But he said being part of a gang had a certain draw.
"It's sense of community," he told presenter Graham Stewart.
"There's always somebody close, next to you out there. There's a sense of care and love."
However, with gang life and organised crime, came the violence too.
"I've had violent thoughts, I've done violent things," said Tommy.
"But that's not who I am now."
Now, Tommy is hailed as a role model for future generations. He is an example of the success of the Action for Children scheme.
It targets young people on the cusp of organised crime and tries to offer them a different path, an alternative.
'Glamour of organised crime'
Paul Carberry is director of Action for Children and sits on the Scottish government's Serious and Organised Crime taskforce.
"We are very proud of Tommy and proud of his journey and we know that he will potentially go very far," he told BBC Scotland.
Tommy's journey is a "very typical" one, according to Mr Carberry.
"There are many young people in our communities who are caught up in organised crime. We are not talking about gangs or group of kids hanging about the streets fighting with each other.
"We are talking about organised crime, serious activity which has a real devastating effect on our communities, particularly the most vulnerable communities."
The Action for Children programme was established in 2012 and research has suggested that 75% of the young people it has worked with have not reoffended.
But getting youngsters away from "what they perceive as the glamour of organised crime" is a difficult task.
"If you are earning £4,000 a week working for a major drug dealer and the alternative is your family going to the food bank - well of course that is an attractive option," said Mr Carberry.
"We need to give them alternatives. What we need to do is get them into employment and get them the right support and help."
And the best way to do this is by example, giving young people "role models who have been on the journey themselves".
"They are our most "powerful assets", said Mr Carberry.
'It's do or die'
And that's where Tommy comes in. He's walked the path but chosen a new route. However, he admits leaving his old life behind wasn't easy.
"It's good money," he said. "You go from wearing £1,000 watches to pulling your pennies together for food - it's a big change for people."
"But it's not worth your life, no matter how much money is in it."
For Tommy though, it wasn't just his own life he had to consider. The real change in him came with the birth of his two children.
"There comes a point when it's do or die. You've got to change," he said.
"I came to the point where I would lose my children if I never changed my ways and that wasn't something I was prepared to do.
"Action for Children saw potential in me and gave me an option to do something else."
As well as offering employment and training opportunities, the scheme also helps young people get involved in sports and hobby activities. But for Tommy the main selling point was the way in which the staff interacted with him.
"They stand beside you, not in front of you," he said.
"They don't say 'don't do that', they say 'think about it first, think about what you are doing and what the consequences are and who it is going to affect'."
Right now "everything is really good" for Tommy.
"Me and my girlfriend are good, the children are good. I just finished a college course and I'd like to be a peer mentor for Action for Children in order to help other people like me."
And another person in this equation is also good. Tommy's dad "got out too".
"Seeing what happened to me made him realise he also had to change," said Tommy.
"I have a good relationship with him now. We went through a stage where we didn't really talk.
"But now I see him regularly, we play golf and enjoy sports."
Both Tommy and his father found their escape path and now he is making it his job to ensure others do too.
"There's a way out, he said. "Just look for it."