Scottish Child Abuse inquiry to be extended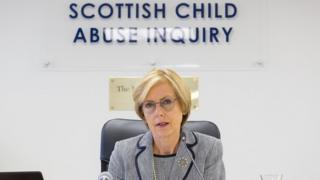 The Scottish Child Abuse Inquiry has been extended to ensure more survivors' voices are heard.
The independent inquiry is looking in detail at historical abuse of children in residential care in Scotland.
Its chairwoman, senior judge Lady Smith, requested that a requirement to report back to ministers within four years be removed.
Deputy First Minister John Swinney has now agreed the inquiry should report "as soon as reasonably practicable".
Mr Swinney said: "It is clear the inquiry is working hard and good progress is already evident.
"A large number of applicants have already come forward and continue to do so, it is vital that the inquiry hears from as many survivors and witnesses as possible.
"That is why I have agreed to Lady Smith's request to revise the original terms of reference to allow more time for the inquiry to complete its work, taking into account its remit, timescale and large number of institutions identified."
'Due process'
The inquiry was established in October 2015.
It has previously been criticised by abuse survivors' groups after the three original members of the panel resigned over an eight-month period.
Lady Smith was appointed as chairwoman of the inquiry in July 2016 and since February 2017 has been the sole member of the panel.
Simon Collins, the lawyer representing In Care Abuse Survivors, said the group understood the inquiry was "going through due process".
"Survivors are more interested in ensuring there is an effective outcome to the inquiry rather than worrying about how long it takes.
"We're looking forward to getting interim reports so that survivors can be kept updated with the progress of the inquiry.
"In the shorter term it's essential for survivors that the government sorts out its plan so that survivors who participated in the inquiry can have redress as quickly as possible."