Colleges 'in better financial position'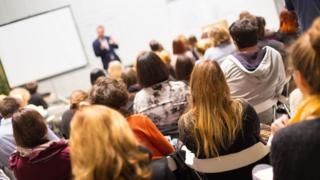 The financial position of Scotland's colleges improved over the past year - although several still face significant challenges, a watchdog has found.
Audit Scotland said the sector had a small financial surplus last year, compared to an £8m deficit the previous year.
But it said the recent pay harmonisation deal would add £50m a year to staff costs.
And it said colleges are facing an estimated £360m bill for repair work.
The Audit Scotland report said the country's 20 incorporated colleges reported an overall financial surplus of £0.3 million for 2016/17, compared to a deficit of £8m in 2015/16.
Five of these colleges had a deficit last year, compared with 11 in the previous years.
Scotland's six non-incorporated colleges reported an overall underlying surplus of £249,000 last year.
Pay bargaining
Audit Scotland has recently highlighted financial problems at New College Lanarkshire, but has also good progress has been made by Edinburgh College on its financial problems.
Its latest report said the Scottish government has provided revenue funding to the college sector of £570m in 2018/19, a real-terms increase of 5% on 2016/17.
Most of this is to meet increased costs associated with national pay bargaining, which was introduced to tackle the wide difference in pay and conditions at different colleges.
Colleges Scotland has estimated the total cost of this pay harmonisation as £50m a year from 2019/20 - which Audit Scotland said would absorb all the Scottish government's projected savings from college reform.
The report also said colleges needed up to £360m over the next five years to tackle their repairs and maintenance backlog.
But they have been awarded just £27m by the Scottish Funding Council for "very high priority repairs" this year.
Attainment gap
Auditor General for Scotland Caroline Gardner said: "Several factors pose a risk to colleges' financial sustainability, including the prospect of a bigger wage bill for support staff and the cost of maintaining buildings.
"There now needs to be clarity about how capital spend will be prioritised across the sector, and colleges need to work with the Scottish Funding Council to improve financial forecasting."
The Audit Scotland report also said colleges were delivering an increasing amount of learning to students from deprived areas, ethnic minority groups, disabled people and those who have been in care.
But despite this, it said that the gap in attainment between students from the least and most deprived areas had grown in recent years.
Shona Struthers, chief executive of Colleges Scotland, welcomed the "many positives" that were highlighted by the report.
She added: "We are very pleased to see that student satisfaction has increased to 90.2% and that colleges have exceeded their targets for learning activity by delivering 1,200 full-time equivalent places over and above what was agreed, while attainment and retention levels also remain strong.
"We embrace diversity in the college sector and the report confirms that the proportion of student from ethnic minorities, with care backgrounds, with disabilities, and from deprived areas have all increased."
Shirley-Anne Somerville, the minister for further and higher education, said the report showed "Scotland's colleges are in better financial health, exceeding learning targets and student satisfaction is even higher than last year".
She added: "We are already working with colleges to raise attainment through, for example, our national improvement programme and increased grants and bursaries for students from the lowest income families."