Rise in homelessness applications in Scotland reverses nine-year trend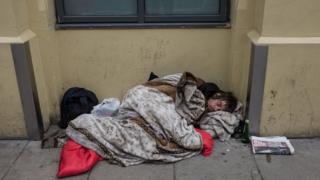 The number of applications for homelessness status in Scotland has gone up for the first time nine years, according to official figures.
Applications to local authorities rose by 1% to 34,972 between 1 April 2017 and 31 March 2018, the Scottish government said.
It follows an eight-year decline from a peak of 57,672 in 2008-2009.
The Scottish government said it was committed to ending homelessness and rough sleeping for good.
The annual figures also show that during the same period, the number of households living in temporary accommodation has risen at the same rate.
An extra 557 children are living in temporary accommodation compared to last year, the fourth consecutive annual increase.
Graeme Brown, Director of Shelter Scotland, said the "shocking" statistics should start alarm bells ringing in Holyrood.
"Every 18 minutes a household was made homeless in Scotland last year with 34,972 homelessness applications - more than last year.
"For the fourth year in a row the number of homeless children living in temporary accommodation has risen - up 9% to 6,615. And people are having to stay longer in temporary accommodation with their lives in limbo."
Mr Brown also warned the figures were "clear evidence" that the good progress made in recent years was now being reversed.
'Key priority'
The number of applications in 2017-2018 increased in 17 out of the 32 local authorities in Scotland.
The main reasons for applying to be recorded as homeless have remained largely unchanged in the latest year, with dispute in the household or a relationship breakdown being cited in 30% of all applications.
Housing Minister Kevin Stewart said the figures were a reminder of why preventing homelessness and transforming temporary accommodation would remain a "key priority" for the government.
"Last year we formed a Homelessness and Rough Sleeping Action Group to tackle this issue, as well as homelessness and rough sleeping more widely.
"The group recently set out a number of recommendations on how we can transform the use of temporary accommodation and we will be bringing forwards a programme of work to implement these recommendations, backed up by the £50m Ending Homelessness Together Fund, to drive change and improvement."
Mr Stewart also said that since 2007 the Scottish government had delivered more than 76,500 affordable homes.