How many recycling bins is too many?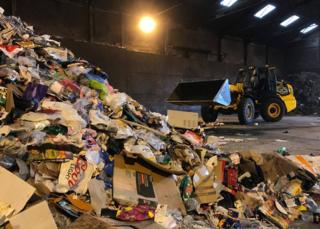 Recycling reduces waste and saves money for local councils but with more and more receptacles for different items, how many bins is too many?
In South Ayrshire, a new waste policy will see residents end up with six bins per household, some of which will only be collected every six weeks.
At the council's waste processing depot in Ayr, they recycle what they can, but currently only 52.5% of household waste is recycled, which means more than 24,000 tonnes a year ends up in landfill.
Kenny Dalrymple from the council's neighbourhood services says landfill is an expensive choice when recycling can earn cash.
"To give you an example, the cost of processing food waste is half the cost of putting it to landfill," he says.
"We don't actually call the recycling waste any more, it is a resource that can be used and we can get an income from, if it is good quality."
"With the recycling regime we will be moving to, with the quality of the recyclate we will be getting, we will be hoping to get the best income possible depending on the market at that time."
But doing something about this will mean some big changes for South Ayrshire residents.
A programme being rolled out from October will see households ending up with six bins:
one for paper and card
another for glass
a bin for metal and plastic
a small food waste container
a large garden waste bin
and the main general household bin for non-recyclable material.
Glass will only be collected every six weeks, while garden waste, metals plastics and cartons, as well as paper and card will be picked up every four weeks, with food waste removed every week.
The general non-recyclable bin will be emptied every three weeks rather than the current two.
Paul Dougall works for the council's waste department and has been trialling the new system at his home in Prestwick.
"What we found was we had to get it right internally, with how we separated the waste," he says.
Mr Dougall says the key was to have two recycling bins in his house so they could be transferred easily to the outside bins.
Some residents, such as Margaret Flanagan, already find the present system of four bins confusing enough, especially if collection does not happen as planned.
She says the new system sounds "exceedingly complicated".
Clearly, the hoped-for prize of reducing landfill costs and even making some more cash from increased recycling to help balance the council's books will need some explaining.
'It will be a challenge'
Councillor Ian Cochrane oversees sustainability and environment for South Ayrshire Council.
He says: "We will be sending out to each household a chart indicating the pick-up duration. It will be a challenge.
"I'm hoping one person in each street will monitor their collection time and the rest can follow. That's how it works in my street."
In some ways there is a perfect storm brewing.
Legislation such as the Scottish government banning food waste from going to landfill by 2021, plus the soaring costs of using landfill, and the environmental and cash benefits of more recycling means councils do have to act.
But they have to take the public with them on that journey in a workable and acceptable way.
How it goes down with South Ayrshire residents will become clear enough once the roll out starts in Girvan in October.