Non-recycled plastic costs Scotland £11m annually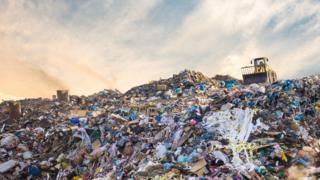 More than 64,000 tonnes of plastic food packaging and bottles are binned every year in Scotland at a cost of £11m.
Zero Waste Scotland said households were throwing away an average of 27kg (4st) of food and drink packaging that could have been put in recycling bins.
The plastic would have been worth £5.7m if recycled but instead goes to landfill, costing councils £5.3m.
The figures were released on World Environment Day, a global day focused on beating plastic pollution.
'Enormous opportunity'
Iain Gulland, chief executive of Zero Waste Scotland, said: "Plastic is a valuable resource, and one which can help generate additional income when recycled properly, yet we are throwing it away, adding to pollution in Scotland and wasting public money that could have been invested in schools, parks or local facilities.
"There's an enormous opportunity to turn single-use plastic bottles into a valuable resource if placed in the correct recycling bins."
According to Zero Waste Scotland, an estimated 20 million plastic bottles are littered in Scotland each year and about 120,000 tonnes of plastic packaging waste are produced from households over a 12-month period.
The Scottish government has announced plans to ban plastic-stemmed cotton buds as part of wider measures to clamp down on plastic pollution, including introducing a bottle deposit return scheme.
Last week, ministers announced that single-use coffee cups are to be banned in Scottish government buildings in a further effort to reduce plastic pollution.
Environment Secretary Roseanna Cunningham said: "This year alone the Scottish government has announced plans to ban plastic-stemmed cotton buds and will shortly be banning rinse-off personal care products containing plastic microbeads as part of Scotland, and the EU's, vision to reduce single-use plastics and ensure any single-use plastics are easily recyclable by 2030.
"This World Environment Day I'd like to ask people to do what they can to reduce their own use of single-use plastic, by reusing what they can and recycling when reuse is not possible.
"If we work together we can make our vision our reality."