Organised crime less about guns and more about 'preying on the vulnerable'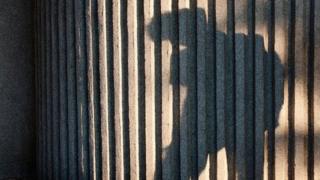 Serious organised crime is part of everyday life in many of Scotland's communities, according to a new report.
Less about gangs, guns and assassinations, organised crime is now about preying on the vulnerable, "helping" when there are welfare and benefits shortfalls.
Local people described well-known crime "firms, families and faces".
Findings from the 18-month study are being discussed by Scotland's Serious Organised Crime Taskforce.
Commissioned by the Scottish government, the 100-page document called Community Experiences of Serious Organised Crime in Scotland reports on the local impacts and perspectives of serious organised crime.
Ministers said they will consider the recommendations of the study.
Justice Secretary Michael Matheson said the report would help to inform how government can support and protect people affected by serious and organised crime.
'Deep roots'
The study - the first of its kind in Scotland - was led by the universities of Glasgow and Stirling, with input from the University of Abertay, the University of the West of Scotland and the Scottish Community Development Centre.
The results show the changing face of organised crime, finding that while serious organised crime continues to have deep roots in territorially-defined communities, other forms have become less visible and more diffuse, partly aided by new technologies.
The report stated that organised crime frequently featured as a relatively routine aspect of everyday life.
Those who took part said poverty and inequality were key drivers of crime in their local areas.
Anecdotal evidence given to researchers described real situations in communities.
Threats, intimidation, and violence were considered routine by many residents.
Criminal groups used local knowledge to identify vulnerable people and seize the "opportunity" presented by the so-called "Bedroom Tax" to pay money to elderly customers with empty rooms to pay the additional charge in exchange for use of the rooms for criminal activity.
The study found diversification in criminal activity, with new sectors being explored such as care homes, child care, nail bars, car washes, funeral care, catering, hospitality, and cleaning services.
Findings stated that in the context of unemployment, precarious work, and zero-hours contracts, organised crime was seen as offering a route to financial reward that was very appealing to some young people, particularly young men in search of respect.
Justice Secretary Mr Matheson, who attended the taskforce meeting at the Scottish Crime Campus in Gartcosh on Monday, said: "Recent high-profile convictions of people involved in organised crime, supported by strong partnership work at the Crime Campus, send a clear message that Scotland is a hostile environment for those who prey on our communities.
"This in-depth report offers personal perspectives on the effects of organised crime locally, particularly on the vulnerable.
"It builds our understanding of the impact of such crime and how best we can support people and protect them from harm."
Dr Alistair Fraser, senior lecturer at the University of Glasgow who was involved in the research, said: "The study shows that while organised crime might be thought of as glamorous it is rooted in deep and enduring forms of harm and exploitation at community level.
"Though the majority of people had no direct involvement in serious organised crime, there were a range of indirect impacts like fear, social exclusion and stigmatisation."
'Equal opportunity employer'
Organised crime was often found to be portrayed as a meritocratic, "equal opportunity" employer where able young people could find both success and a sense of belonging that they were denied in the legitimate economy.
The report suggested tackling the far-reaching effects would have to involve policing, as well as statutory agencies and local community groups.
Dr Niall Hamilton-Smith, senior lecturer at the University of Stirling who was also involved in the study, said: "We need a stronger set of partnerships across policing, community groups and service providers in order to better identify and address vulnerability and exploitation linked to organised crime.
"As well as developing new resources within these communities we also need to change the narrative around how we view organised crime.
"We heard from a range of people who saw the logic in participating in these crime groups as being for 'flash cars', ready cash and local prestige when in reality very few individuals attained any material success without detriment."