Trust to spend £60m on Scotland's heritage over five years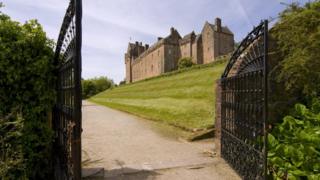 An investment of £60m into built and natural heritage has been announced by National Trust for Scotland.
The conservation charity says this is the most ambitious programme for investment and activity it has ever proposed.
The cash will be spent over the next five years to deliver benefits to a more diverse range of people.
The organisation vows to defend Scotland's heritage for current and future generations.
The Trust's five-year plan commits to modernising its approach - developing learning experiences for more than 100,000 people each year and introducing new, engaging and more inclusive ways to present its collections, gardens and the stories of Scotland.
The body wants to grow visitor numbers to more than five million, increasing annual donations to more than £10m.
To do this, it has undertaken bold projects such as putting a "box" around Charles Rennie Mackintosh's Hill House in Helensburgh.
An urgent campaign to raise £1.5m is well underway, allowing crucial conservation work to commence in the coming weeks.
Technology systems
The Trust recognises that more needs to be done to improve its properties, not only by investing in maintenance and conservation, but by enhancing the experience of visitors and enriching the way it tells Scotland's story.
It describes how significant investment in its technological systems will improve customer experience and assist volunteers and staff in their jobs.
The strategy also reinforces the role the Trust has in collaborating in wider discussions such as sustainability and climate change - harking back to the campaigning roots of the organisation.
Simon Skinner, chief executive of the charity, said: "This strategy outlines everything that the National Trust for Scotland stands for: protecting our heritage, sharing unique experiences with people and promoting Scotland, all through the collective endeavour of our supporters and staff. To do that, we need to create an efficient and sustainable business which delivers our conservation ambitions.
"Our charity is unique in Scotland in that its remit is to protect the full spectrum of cultural, built and natural heritage. Our independent charitable status also gives us the freedom to take a long-term view about what is best for heritage, to make our voice heard when it is needed and to take radical action, just as we are doing at The Hill House.
"This plan for the next five years sets out how we can make the Trust fit for the future."
Other improvement projects currently on the go include Brodick Castle on Arran and Inverewe Garden in Wester Ross.
The National Trust for Scotland recently launched its "For the Love of Scotland" campaign, featuring well-known faces including cyclist Sir Chris Hoy, actor Brian Cox and Hollywood star Gerard Butler.