Grenfell: Calls to waive VAT on removal repairs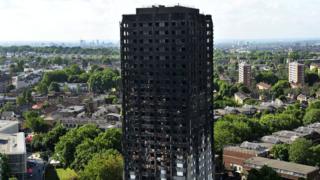 Cladding removal work in the wake of the Grenfell tragedy should be exempt from VAT, according to Scotland's housing minister.
Kevin Stewart has written to the UK Treasury calling for the tax to be waived for work carried out in the wake of the tower fire.
He said it would be "immoral" for the UK government to make money from work to remove combustible cladding.
The UK government is to fund the replacement for social housing.
The prime minister has committed to spending about £400m to pay for councils and housing associations to replace the potentially dangerous material on tower blocks.
But the owners of private buildings have to pay for repairs themselves.
Mr Stewart said those living in privately owned buildings would face significant costs to ensure their homes are safe.
Cladding fuelled the spread of the fire that killed 71 people in the west London block in June last year, and a subsequent safety operation identified hundreds more buildings with similar set-ups.
Mr Stewart said: "We welcome the recent announcement that the UK government will fund replacement cladding for social high-rise domestic buildings, however that funding will not be extended to owners of private high-rise buildings.
"This means that in order to make their homes safe, individual owners will need to fund the full cost of replacing unsafe combustible cladding.
"These costs run into millions of pounds and are made considerably higher as VAT is payable on this category of repair works. Hundreds of buildings and thousands of individuals across the UK are affected by this."
He added: "It perturbs me that we find ourselves in a situation where repair work directly linked to the replacement of ACM cladding, in order to ensure the long term fire safety of residents, will ultimately result in additional revenue to HM Treasury."
An HM Treasury spokeswoman said: "We are providing £1m of financial support to help local authorities identify privately owned buildings affected by unsafe cladding, and we will continue to work with them to ensure that safety measures are put in place."