Woman's life 'stolen' from her at Nazareth House home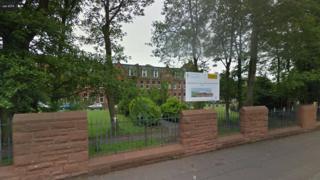 A former orphanage resident has told an inquiry she was sent to a shrine in France to cure her of a "mental illness" by a nun who called her evil.
Paula Chambers said her "life had been stolen" during her time at Nazareth House in Glasgow in the 1980s.
The 45-year-old told how a nun sent her to the Sanctuary of Our Lady of Lourdes in France, to get rid of a "mental illness".
She was giving evidence at the Scottish Child Abuse Inquiry.
Ms Chambers has waived her right to anonymity.
She told the inquiry: "[The nun] said it's a holy shrine where people go. I asked 'what's wrong with me?'
"She said 'you've got a mental illness, if you go to Lourdes you will be cured'.
"I thought I was alright. It was a pilgrimage of people that had something wrong with them."
'Mother figure'
The inquiry heard the same nun at the Catholic-run orphanage in Cardonald would call her evil.
Ms Chambers said: "She just told me I was in there because I was a bad child, my mother couldn't cope with me.
"I was evil, she said to me on a few occasions."
She described another nun as being a "light" to her and a "mother figure", but the overall experience at the home was "very, very bad".
She added: "It's destroyed my life. I'm left with mental health that I can't control.
"I was a happy baby child, now I've got four or five things wrong with me.
"I just feel like my life has been stolen from me."
The inquiry also heard that a volunteer at the home would sexually assault children there.
Ms Chambers said: "[He was] kissing and touching all the time - everybody knew it was going on."
The inquiry before Lady Smith continues on Friday.