Charles Rennie Mackintosh would have been 'disappointed', claims artist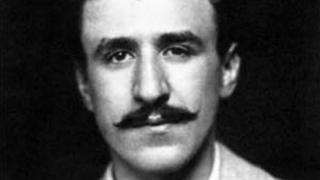 Glasgow's most celebrated designer and architect would have been "deeply disappointed" by the city today, according to artist Lauchlan Goudie.
Charles Rennie Mackintosh was largely overlooked in his own time but has now become the image of Glasgow Style.
Goudie is presenting a BBC documentary to mark the 150th anniversary of Mackintosh's birth.
He called the buildings along Glasgow's riverside a "desolate wasteland of incompetent architectural carbuncles".
The 42-year-old son of famous Glasgow artist Alexander Goudie said Mackintosh was a genius who paid great attention to every detail of the structures he built.
The TV presenter and Mackintosh expert said the great designer's work should be an example to Glaswegians of how to make exciting and challenging buildings.
Goudie said Glasgow had gone on a journey from "absolutely despising" Mackintosh to using him as a figurehead to generate tourism.
In the programme, he says: "The city that rejected him now plasters his image on everything from tea towels to fridge magnets.
"The architect and designer who had slogged late into the night obsessing, probably would not have thought much of a 'Mockintosh' microwave-proof travel mug.
"Mackintosh was all about designing buildings that learnt something form their environment, learnt something from the history and from the context of the place in which they were built.
"He was obsessive, he was visionary, he was a genius. He created in every building and every interior that he dreamt up a total artistic whole. Everything worked together."
In contrast, he says that areas of modern-day Glasgow, specifically alongside the river Clyde, looked "like bits of space junk that has been deposited there".
"This is the Glasgow style of today and I think Charles Rennie Mackintosh would have been deeply disappointed," he said.
Goudie said he did not want to be seen as "sneering" at Glasgow or the Mackintosh merchandise that is so popular with tourists.
He said: "The whole programme is about how complex Mackintosh was and these are things that cannot always be reproduced in books or in things you can buy in shops.
"Mackintosh had an imagination that was so detailed. He designed everything.
"That is a kind of comprehensive imagination that was pretty intolerable for anyone who was trying to collaborate with him. He was a design dictator."
Mackintosh interiors
Mackintosh was born in Glasgow's Townhead in 1868, the fourth son of a policeman.
He became an apprentice architect at 15 and later work for Glasgow firm Honeyman and Keppie while also studying at Glasgow School of Art.
He was chosen to build the new art school in 1896 and, despite being unloved at the time, it is now considered his masterpiece.
His famous art school library was destroyed in the fire that devastated the building in 2014 but it is being rebuilt along with other sections of the structure.
Other Mackintosh buildings include Scotland Street School, the Queen's Cross Church and Hill House in Helensburgh, which was built for publisher William Blackie.
It is currently owned by the National Trust for Scotland but is in need of urgent repair.
One of Mackintosh's most loyal patrons was Miss Catherine Cranston, who owned tea rooms around the city.
The Willow Tea Rooms on Sauchiehall Street have been refurbished to recreate Mackintosh's interiors and will reopen to mark his anniversary.
It was announced last week that the interiors of his Ingram Street tea room, which have been lying in storage for decades, will be recreated in the new V&A museum that will open in Dundee in September.
Mackintosh: Glasgow's neglected genius is on BBC Two Scotland on Tuesday 5 June at 21:00.