Scottish RNLI crews experience busy holiday weekend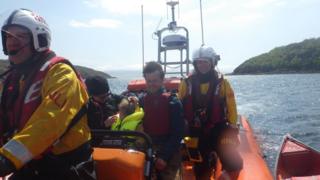 Volunteer lifeboat crews in Scotland responded to 23 different incidents across the bank holiday weekend.
Calls ranged from drifting inflatables to stranded jet skiers.
The crew at Kyle of Lochalsh, in the Highlands, responded to an urgent "Pan Pan" distress call from a group of kayakers and canoeists.
The two adults and a three-year-old child had been caught out by a sudden change in weather conditions but made it to the shore without injury.
A spokesman for the RNLI at Kyle of Lochalsh said: "The family were well prepared for their kayaking trip but were caught out by the weather.
"They were all wearing lifejackets and were carrying a means of calling for help, a VHF radio, two key things that we encourage all kayakers to do in order to stay safe on the water."
Troon's volunteer lifeboat crew attended four different situations across the weekend including drifting inflatables.
Joe Millar, Troon Lifeboat Coxswain, said: "Inflatables are designed for pools, not the sea especially when the wind is blowing offshore and they can quickly be blown out to sea.
"If you do see someone in trouble at sea or on the coast, dial 999 and ask for the Coastguard."
The RNLI recently launched its summer Respect the Water campaign which reminds people what to do should they find themselves suddenly in cold water.
If you get into trouble in cold water, the RNLI's advice is to float on your back for a short time to regain control of your breathing.
"Potential killer"
Mike Tipton MBE, Professor of Human and Applied Physiology at the University of Portsmouth, and world leading expert in cold water shock said: "The instinctive human reaction on immersion in cold water is a potential killer as this can cause panic and thrashing around, increasing the chances of breathing in water.
"This also lets trapped air escape from clothing, reducing buoyancy.
"Although it's counter intuitive, the best immediate course of action is to fight your instinct and float on your back. Once you've gained control of your breathing you can swim to safety, call for help, or continue to float until help arrives. Doing this will give you a much better chance of surviving."