Suicide triggers in men to be studied
Suicide among men in Scotland is to be examined as part of an in-depth study by researchers at Glasgow University.
The three-year Phd will assess what increases the likelihood of someone taking their own life and what can be done to reduce the risks.
Of the 728 people who killed themselves in Scotland in 2016, 75% of them were men.
Suicide is currently the leading cause of death in men under the age of 50 across the UK.
The project will involve researchers conducting a "psychological autopsy" of the social, clinical and psychological risk factors associated with male suicide.
'Flip of a coin'
Prof Rory O'Connor, the director of the Suicidal Behaviour Research Lab at the university, told BBC Radio Scotland's Good Morning Scotland programme: "I've been studying suicide for the last 20-plus years and yes, our understanding of the complex set of factors have increased, but the stark reality is that we're no better than the flip of a coin at predicting who will kill themselves.
"If we focus in on men - between 70-75% of all suicides across the UK and Scotland are by men and we don't know enough about what it is about men, about the complex set of social, clinical and cultural factors and psychological factors that increase that risk."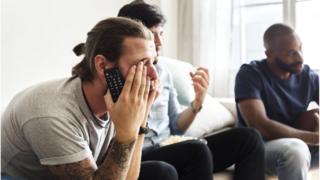 Prof O'Connor said that while suicide was traditionally considered as an issue that affected younger men, recent figures had shown it was also a significant cause of death for those in their 40s and 50s.
He also said that of those people who were treated for depression, less than 5% would go on to kill themselves.
He said more work was needed to understand what was unique about that group that led them take their own lives.
'Different from women'
"What we're hoping to do in this project is understand the unique circumstances not just of male suicide, but male suicide in Scotland.
"Although over the past 10 years the suicide rate has been decreasing in Scotland, there was this increase last year and we're hoping that doesn't turn into a trend.
"What is about Scotland, what is it about our suicide rate that's higher than it is in England and what can we do to intervene?"
Suicide in Scotland
75% Men
Proportion of deaths from suicide
728 Total number of deaths from suicide in 2016

8% Rise in the number of suicides compared with 2016
Getty Images
The Scottish Association for Mental Health (SAMH) will fund the three-year PhD scholarship, which will be the most in-depth study of its kind in the UK.
Chief executive Billy Watson told the programme: "There are relatively few studies in terms of those risk factors and behaviours that we are keen to understand more deeply. So we hope that this has the potential in Scotland to be a breakthrough piece of work."
He added: "We know that men - where and how they seek help and at what time they seek help - is different largely from women.
"We know their social connectedness and societal role for men may also be a factor.
"We wish to explore self-harm, self medication - they're all factors that I hope this study can get further into to help us understand some of those patterns and how they some people to complete suicide and others to not choose that path, who also have those risk factors."
The work of SAMH on suicide prevention is backed by footballer Charlie Adam. His father, Charlie Snr, took his own life in 2012.
"It was a real blow to me losing my Dad," the Scotland international said.
"It knocked me big time. It's great that this research will look to understand suicide risk in men.
"It's a subject that's close to my heart."

Details of organisations which offer advice and support are available at BBC Action Line or you can call for free, at any time, to hear recorded information 0800 066 066.