Principal challenges university access claims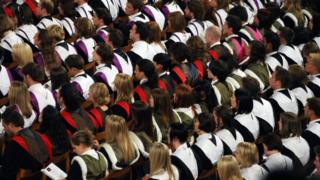 The principal of one of Scotland's oldest universities has denied that not enough is being done to improve access to students from disadvantaged areas.
Prof Sir Ian Diamond told MSPs how a girl told him people from her school did not go to Aberdeen University.
He said he had then taken her to the university to demonstrate otherwise.
As a general rule, Scotland's newer universities have a greater proportion of students from disadvantaged areas compared with older institutions.
The Scottish government wants 20% of students at all universities to come from Scotland's poorest areas by 2030 - so called SIMD 20 areas.
Currently, only the University of the West of Scotland and Glasgow Caledonian University have reached this target.
Scotland's universities published a joint action plan earlier this year to help them reach the target.
This included a commitment to pay less attention to exam results and more to the candidate's own experience and potential - so-called "contextualised admissions".
This is in response to the view that it is easier for children from affluent backgrounds to get the exam results required for some courses because of parental help, private tuition or the culture at particular schools.
Prof Diamond was one of a number of principals facing questions from MSPs on Holyrood's Education and Skills Committee.
'Nice conversation'
He noted that a relatively small number of people within the university's catchment area in north east Scotland lived in a SIMD 20 (Scottish Index of Multiple Deprivation) area.
However, he said that there were other students who had faced disadvantage too.
He told the committee: "We have enormous numbers of other students who do not come from these areas."
Prof Diamond also told MSPs how important it was to work with schools to ensure young people realised that ancient universities could be an option for them.
He described a visit to a secondary school in the Torry area of Aberdeen.
He said: "I gave a speech and (was) having a really nice conversation with S5 and S6 pupils.
"Afterwards, a young woman came up to me and said she really, really wanted to study law but that people from her school did not go to the University of Aberdeen.
"I said 'that's absolute rubbish', and I more or less took her to the University of Aberdeen.
"We have to get within the schools....so that at our target schools, everybody thinks they can go to the University of Aberdeen."
'Very capable'
Also giving evidence to the committee was the principal of the University of the West Of Scotland, Prof Craig Mahoney.
More than a fifth of students at UWS come from deprived postcode areas and the university is proud of its record in widening access.
However, Prof Mahoney spoke of the danger of attempting to homogenise the system.
He said: "The university system in Scotland is a very successful system of higher education recognised throughout the world and is very capable.
"You can look at my university...(and ask) how come you're not doing very much research? Because we're not a research-led university, we're a teaching university with research that is world-class but small."