Give Scottish ministers a say on East Coast rail line, says Yousaf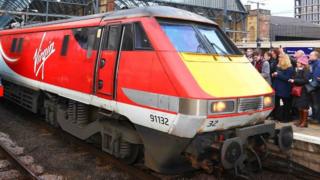 Scottish ministers should have a say in setting up new publicly-run East Coast rail services, Humza Yousaf has said.
The transport minister also wants assurances there will be no reduction in services for Scottish passengers on the line between London and Edinburgh.
Earlier, UK transport secretary Chris Grayling announced the line would be returned to temporary public control.
If follows the failure of the current franchise agreement with Virgin Trains East Coast (VTEC).
Operators Stagecoach and Virgin Trains will hand over control from 24 June.
The Department for Transport will run the service until a new public-private partnership can be appointed in 2020.
Transport Secretary Chris Grayling said it would smooth the transition to a new operator, but critics said it was evidence of private sector failure.
It is the third time in a just over a decade that the government has called a halt to the East Coast franchise.
Mr Yousaf said the Scottish government should be involved in the new board being set up to oversee publicly-run East Coast rail services.
He said: "In the circumstances of the third successive failure of the UK government's East Coast franchise, an operator of last resort solution is the better of the available options.
"Given the importance of East Coast services to Scotland, we will press the UK government for involvement in the new LNER board.
"We will also require assurance that there will be no reduction in service levels for Scottish passengers, and that promised improvements to Scottish East Coast services will still be delivered without further delay.
"Trade unions' concerns must also be listened to and an assurance given that new arrangements will not negatively affect jobs, terms and conditions."
A Department for Transport spokesman said: "We are taking a new approach for rail improvements in England and Wales to tackle these challenges in future.
"We understand the Scottish government is writing to the department and we will consider their request and respond in due course."
The London to Edinburgh line has been run by a joint venture between Stagecoach and Virgin since 2015.
The companies promised to pay £3.3bn to run the franchise until 2023, but at the end of last year it become clear they were running into trouble.
In February it was announced that the franchise would end early, leading to accusations the government was bailing them out.