Armed officers respond to 80 incidents since role extended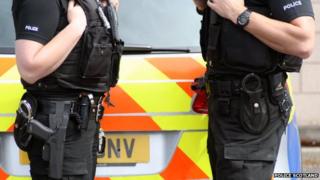 Armed Response Vehicle (ARV) officers have attended more than 80 incidents to help vulnerable people since their roles were extended earlier this month.
In December, Police Scotland confirmed ARV officers would be deployed to a wider range of incidents, with an emphasis on public protection.
Since 7 May officers have assisted with incidents including missing people and road traffic accidents.
Officers also attended at least ten calls to provide medical assistance.
On the day the role of ARV officers was expanded a team assisted at the scene of a road traffic incident in Dundee and provided medical treatment to a man who suffered a serious head injury.
In a separate incident, a team helped a drunk man in Inverness after receiving reports about a man walking in front of vehicles.
Unconscious man
The following day, 8 May, ARV officers in Edinburgh were the closest unit to an ongoing domestic violence incident and attended before handing the matter over to their divisional colleagues on their arrival.
Other cases saw an ARV team assist an unconscious man in Inverness and an elderly woman who fell on an Aberdeen street.
And in Dumfries, firearms officers provided treatment to a man with self-inflicted wounds and stabilised him until an ambulance arrived.
A team from Dumfries also provided advanced first aid at the scene of a serious road traffic accident on Saturday but the man sadly died from his injuries.
Speed of response
Assistant Chief Constable Nelson Telfer said the highly trained officers can provide valuable assistance to their colleagues and other emergency services.
He said: "As we have seen over the past week, their support to local officers has resulted in a number of missing people being traced safely and they have repeatedly provided assistance with their enhanced first aid skills.
"The deployment of these officers will at all times be overseen by specially-trained inspectors across Scotland who will assess the appropriateness of calls they attend using established decision making and risk assessment processes.
"The number of armed officers makes up just over 2% of the total number of police officers and we must remember that first and foremost, they are police officers.
"The emphasis of the extended role of ARV officers is on public protection, vulnerability and speed of response."