Mrs Unis haggis pakora recalled from shops over polythene fears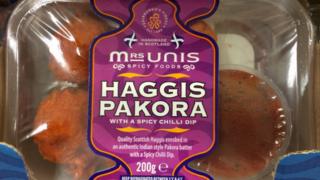 An Edinburgh company is recalling of a brand of haggis pakora from shops over fears it may contain shreds of polythene.
Mrs Unis Spicy Food Ltd said its 200g packs with a use-by date of 19 May 2018 were affected.
The company has taken steps to remove the product from shops, and customers have been urged to return packs for a full refund.
No other Mrs Unis Spicy Foods products are known to be affected.