Study into economic impact and potential of Robert Burns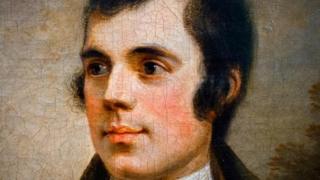 Academics are to assess the economic value of Robert Burns to Scotland.
A team at the University of Glasgow will also look at the future potential for the bard to boost jobs in hotels, restaurants and tourism.
Led by Prof Murray Pittock, researchers will examine how the worldwide appeal of Burns is already supporting Scottish business and jobs.
The Scottish government-funded study is believed to be the first to look at the economic impact of such an icon.
Prof Pittock, of the Centre for Robert Burns Studies, said he hoped to establish how the fascination with Burns translated into economic return for Scotland.
"Tourism and food and drink are two of the three largest industries in Scotland, which in their turn reflect a highly visible national Scottish brand in the global marketplace, a brand which owes an enormous debt to Scotland's 18th and 19th century history," he said.
"We need to understand the relationship between our culture and our economy more fully in order to maximise our already world-leading position."
Within the UK, Scotland attracts more culture and heritage visitors than anywhere outside London.
The Robert Burns museum in Alloway is second only to Shakespeare among UK writers' museums in visitor numbers.
Prof Pittock, pro-vice principal at the university, added: "With up to nine million people now attending Burns Suppers every year across the world and the recent decision by Norwegian Airlines to put his name on the tail fin of one of their planes, the global importance of Burns is established.
"What is important is to know now is the value he brings to the Scotland, and how he can be used to further enhance our economy."
'Economic growth'
The research project will run until the summer of 2019, with an interim report ahead of the Burns season in January.
Dr Alasdair Allan, Scottish minister for international development and Europe, said: "We are delighted to fund the work that Professor Pittock and colleagues will carry out in assessing the impact of Robert Burns on the Scottish economy, and particularly how this could be further harnessed to drive inclusive economic growth for Scotland."
Joan McAlpine MSP led a debate at Holyrood on Burns and the Scottish economy earlier this year.
She cited research then that estimated the poet generated £157 million per annum for Scotland in tourism and merchandising back in 2003.
She said: "The figure will now be much higher and I am delighted that the University of Glasgow's more extensive research project will also look at the global value of Burns to Scotland."