Delay to Scottish EU farm subsidy review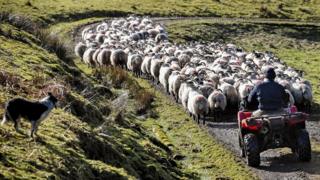 A long-anticipated review into how EU farm subsidies are distributed between Scotland and the rest of the UK has been delayed.
EU Convergence Uplift payments of £190m were triggered because of the low rate paid to hill farmers in Scotland.
But the money was shared out by the Treasury across the UK farming sector.
The terms of a review of the payments had been agreed but UK Environment Secretary Michael Gove said it had been held up by the Treasury.
Scotland's Rural Economy Secretary Fergus Ewing said the delay was "completely unacceptable".
Per-hectare payments
The long-running row dates back to 2013, when the EU announced moves to redistribute Common Agricultural Policy (CAP) payments more fairly, on the basis of average Euros per hectare.
The EU paid the uplift money to bring Scottish hill farmers up to the average per-hectare payments of all the other EU countries.
However, the decision was made by the UK government to spread the payments across the whole farming sector, based on historical distributions.
The UK Treasury distributed about £30m to Scottish farmers.
Mr Ewing said: "Scottish hill farmers are owed £160m, which the UK government has repeatedly ignored.
"I have been clear throughout that the money was earned in Scotland, and quite frankly should be returned to Scotland."
In a letter to Mr Ewing, Mr Gove said that he wanted swift progress on establishing the agreed review but that the Treasury was ultimately responsible for financing.
He added that "the question of future funding of agriculture is one which the Treasury needs to give careful consideration given its wider responsibilities".
Mr Ewing said: "Our demand for the monies to be returned to Scotland is not against farmers in other parts of the UK, but is about setting a precedent for future agricultural funding within the UK.
"Without progress on this issue, how can we trust that Scotland will be fairly treated in future funding discussions when there is this long-standing unresolved issue."
NFU Scotland president Andrew McCornick told BBC Scotland: "Less than six months ago, Michael Gove committed to a proper, independent review of how funding is allocated and it will come as a disappointment to Scotland's farmers and crofters that little or no progress has been made.
"This review is critical in establishing a fair baseline for future agricultural funding levels in Scotland beyond Brexit."
Mr McCornick said NFU Scotland had been pressing Mr Gove's predecessors on the matter since 2013.
He said he had wanted them to recognise Scotland's lower-than-average support payment rate and reallocate more funding to Scottish hill farmers.
"All have promised action on this but none have so far delivered," he said.
"The long-standing view of NFU Scotland is that there was no objective justification for the UK government decision to share the convergence uplift across the whole of the UK based on historic allocations, and this approach was always out of line with the European Commission's rationale for the uplift."
A spokesman for the UK government's department of environment, food and rural affairs (Defra) said: "We are in discussion with HM Treasury about this review. It is essential that it is considered alongside wider funding implications in Scotland, Wales and Northern Ireland as we leave the EU.
"We want to provide stability for all UK farmers, which is why we have guaranteed the amount we allocate to farming support - in cash terms - will be protected until the end of this Parliament.
"Ministers have consistently said we will ensure all parts of the UK are treated fairly and their circumstances taken into account."