Belle and Sebastian singer says ME turned his life upside down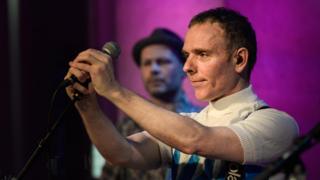 Belle and Sebastian lead singer Stuart Murdoch has called on people with ME to make a noise about the condition.
The founder of the Brit Award-winning Scottish indie band is one of at least 20,000 Scots living with myalgic encephalomyelitis (ME).
He is leading the campaign for better research into the disease, often known as chronic fatigue syndrome.
A rally in Edinburgh called for more action to tackle the devastating impact of the little-understood condition.
ME is a neuro-immune disease which causes profound and disabling ill-health.
The event is one of more than 60 being held across the world calling for more research and better education for healthcare professionals.
Murdoch said attitudes to the condition were more positive than they used to be but there was still no diagnostic test and no cure.
The 49-year-old Glaswegian songwriter told BBC Scotland he first became ill with ME when he was at university in 1990.
The next seven years were extremely difficult and it meant he could not work.
He said: "It turned my life upside down. It was the biggest thing to happen to me, practically and spiritually, in every aspect.
"I had to give up everything, work and college and pretty much all my friends as well. You start your life again.
"It's made me a completely different person and at times it's been very difficult.
"A knock-on effect, as you can imagine, is your mental health suffers quite drastically at times."
Music career
Murdoch formed Belle and Sebastian in the mid-1990s and has managed to build a successful career despite his illness.
"I'm super lucky," he said.
"My so-called music career was built out of ME.
"I would not have written those songs if I hadn't had ME. So my group has been fashioned around my abilities and disabilities.
"The group has been a tremendous support to me. We go at my speed."
The band has recorded nine albums and won the Brit for Best Newcomer in 1999.
But Murdoch said ME had been a constant throughout.
"It is always in the background, struggling with every day stuff," he said.
"You are almost cocooned. You go to extreme lengths to manage during the day."
Murdoch said there was "a lot of negative publicity in the 1980s and early 90s" about ME.
"People are much more positive about it now and realising we have to do something about it."
He said 25% of people with the condition are bed-bound and unable to leave the house.
The Edinburgh protest was held on the Mound, outside the National Galleries of Scotland.
Campaigners were demanding more funding for biomedical research into ME and better education of healthcare professionals about the condition.
Murdoch said: "It would be a miracle to actually find out what is going on.
"We can talk about a cure later."
Emma Shorter from ME Action Scotland, told BBC Scotland: "Twenty five per cent of patients are too severely unwell. You don't see many of us because we're missing and the significance of it is that we're missing from our life, we're missing from our work, we're missing from our families because the disease makes us so sick.
"The shoes are there to represent the patients who are too sick to be here today."
She added: There's very little education and the little that there is is erroneous and harmful to many patients. Our NHS is amazing but how can doctors and nurses treat us if they aren't given the tools to treat us properly?
"We just need them to be given training based on the latest scientific evidence, to care for us until a cure can be found."