Former teacher tells minister 'teaching is an undoable job'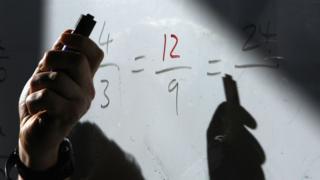 A teacher who left the profession because it became an "undoable" job has told Scotland's education secretary the profession is a "disgrace".
Speaking to SNP MSP John Swinney, former teacher Joanna told the cabinet secretary she would never work in a school again.
She told him many teachers felt under pressure, took medication and felt ill at the thought of going to work.
Mr Swinney said he was committed to removing barriers to teaching.
The education secretary spoke to Joanna during a question and answer phone-in on BBC Radio Scotland's Kaye Adams Programme.
Joanna told the MSP she left teaching last year after many years because she spent more time on administrative tasks and less on actual teaching.
She said: "So many colleagues feel under pressure, they are on medication from their doctors, they, physically feel ill at thought of going to work because they are not able to get on with the job that they have trained for.
"Teaching tends to attract very hardworking passionate people who have a real belief in their subject and yet they are being prevented from doing that because of all the extra "frilly" tasks that management want them to do that are not having an impact on the children."
Mr Swinney explained that he wanted to encourage more people into the profession, and an extra 540 teachers had been recruited in Scotland in the past 12 months.
He said: "I wrote to every registered teacher in August 2016 telling them I wanted them to feel empowered to only do the things in their daily work in school they felt impacted on the learning and teaching of young people. And if there was other stuff getting in the road of that, we should focus on enhancing the concentration on learning and teaching.
"We need to remove the extraneous things in the working lives of teachers that get in the way of delivering quality learning and teaching."
Joanna said: "When teachers are faced with pupils who have behaviour issues, pupils who don't speak English, pupils who have additional learning needs, pupils who have to leave the classroom when they feel anxious, you have a classroom of 33 or 34 people of a mixed bunch like that and you've spent most of your day doing admin tasks that don't have any impact on your classroom.
"Why on earth would you get out of your bed in the morning and go to that?"
Is Joanna's experience typical? - Analysis by Jamie McIvor, BBC Scotland education correspondent
In any profession you will find people who love their jobs and people whose love affair has turned sour.
The best teachers see their work as vocational so realising that their job no longer provides fulfilment or sense of purpose they imagined it would can be upsetting.
But just how typical are the experiences of Joanna?
Without data from exit interviews, it is hard to say how many of the people who leave teaching are seriously unhappy and how many simply want to do something else with their life - perhaps because they are burnt out.
It is also hard to get a sense of just how widespread her views may be although I can honestly say few of the teachers I have ever spoken to have, even privately, expressed worries which go much beyond the kind of frustrations and disappointments people in all professions can face.
As Joanna was speaking on Radio Scotland, I was filming at the primary school in Stirling where the Daily Mile was pioneered - the love the teachers there have for their job is immediately obvious and infectious.
In recent years, teachers have faced big challenges through the introduction of Curriculum for Excellence and the new suite of qualifications. Concerns about stress and bureaucracy were a very real concern for unions but, of course, many workers in all professions face these challenges.
Where problems are caused by serious misbehaviour rather than administrative hurdles though the challenge is a different one.
At school in the 1980s, I witnessed examples of real unruliness where individual teachers could not control classes but also met teachers who immediately commanded authority. Perhaps it was always such.
Similarly it is easy to imagine that the happiest teachers work in schools in the suburbs packed with polite middle class children whose parents expect their offspring to get top grades and a university place.
Yet many teachers working in disadvantaged areas - who would appear to have more challenging or stressful jobs - tell me they find that the real difference their work they may make to the life chances of children makes the strain of the job something truly special.
No two teachers have quite the same story.
The education secretary said he was extremely concerned about her experience and perspective. He said there were challenges in education, but there was also a tremendous amount of joy in teaching.
"There is not a week goes by when I am not in a school and I speak to many teachers who get a tremendous thrill out of the process of learning and transforming the lives of young people and enabling them to achieve more in their lives.
"What I am trying to do is make sure that teachers have more and more opportunity to concentrate on the core learning and teaching which motivates people to come into the profession and all the steps that we are taking is important.
"I think there is a huge amount of commitment within the teaching profession to enhance their practice and make sure they can make a really big impact on the lives of young people in Scotland."
Joanna said she would never consider going back to teaching.
She said: "Teachers come home from work, they collapse on the sofa, drink half a bottle of wine and wait for the next day. That is the reality for most people I know.
"I would never go back and I would never advise anyone to go into teaching - it's an absolute disgrace."