Hayley's tragic death raises more concerns about Fife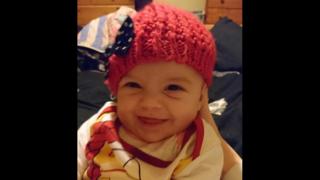 The death of five-month-old Hayley Davidson was tragic but was it an isolated incident or another sign of failings with child protection in Fife?
I have spent much of the last year looking at what has happened in Fife.
In the first four months of 2014 there were three child killings in which child protection was an issue.
Three-year-old Mikaeel Kular was killed by his mother, Liam Fee died at the hands of his mother and her partner, and Madison Horn was the victim of a horrific attack by her mother's new boyfriend.
Hayley Davidson died from a serious brain injury two years later in February 2016, after being found at a house in Buckhaven.
Her mother's boyfriend Gordon McKay has now been jailed for seven-and-a-half years for shaking her to death.
We have examined court documents that raise serious concerns about child protection in her case.
On 1 January 2016, Hayley was admitted to Victoria Hospital in Kirkcaldy with a broken arm. She was treated and released.
McKay said the injury was an accident and child protection services accepted that.
On 1 February, an X-ray was taken as a follow-up to see if her arm had healed.
Two weeks later, Hayley was taken to the same hospital after McKay attacked her.
The baby became seriously ill and was transferred to the Royal Hospital for Sick Children in Edinburgh where she died on 16 February.
It was only at this point that doctors discovered a series of healed injuries including fractures that suggested previous abuse.
A review of the X-rays from her broken arm revealed those fractures were visible and should have been detected at the time.
Jackie Brock, from the charity Children in Scotland, said it was concerning that Hayley was seen with significant bruises and injuries but it was not picked up in time.
"Who knows if it could have prevented her death," she said.
Ms Brock said with a child as young as Hayley there should have been thorough examinations to make sure she was safe to go home.
NHS Fife said protocols had been changed as a result.
A significant case review into the events leading to Hayley's death is now under way.
But the BBC revealed problems with previous reviews.
In Madison's case the review did not mention that a social worker failed to warn Madison's mother about the previous offending history of Kevin Park - her new partner.
He later murdered Madison.
In Liam's case a whistleblower told the BBC that an opportunity to intervene in Liam's case just weeks before his death was missed after he was seen at Victoria Hospital.
This was not included in the review.
So is it time for an outside look at whether child protection services in Fife are learning the lessons they should?
Ms Brock, of Children in Scotland, said: "I suppose given the history I would suggest the time is right now for Fife to call in the inspectors and ask for a thorough overview of what is happening in the child protection service.
"Do they need more resources? Should they be investing for example in more paediatric support at every one of their hospitals in Fife?
"That independent overview, I think the time is right and I think frankly that Liam Fee and Hayley's death and the others deserve no less."
Scottish Conservative MSP Michelle Ballantyne said she had been one of those saying an independent inquiry would have been appropriate in the wake of the deaths.
She said: "Fife have obviously ignored that and feel that they can make changes internally without anyone else having a look.
"If they can and they have, fair enough, let us know, tell us what has changed.
"And explain to us why we no longer need an outside enquiry."
We asked those responsible for child protection services in Fife about Hayley's case but they said they could not comment until their review was complete.
They defended previous investigations, saying not all information considered by reviewers could be made public.
We first asked for an interview about these issues a year ago.
To-date no-one has agreed to answer our questions on camera.