Donald Trump 'expected to visit Scotland'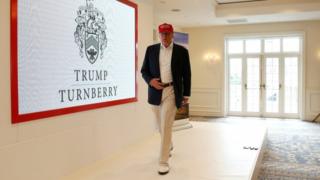 Donald Trump is expected to visit Scotland on his trip to the UK this summer, BBC Scotland understands.
The full itinerary for the US president's visit has not yet been finalised.
But BBC Scotland correspondent Glenn Campbell said the current plan included a Scottish leg to his tour.
Mr Trump, whose mother was born on the Isle of Lewis, owns golf resorts in Aberdeenshire and at Turnberry in Ayrshire.
Speaking in January, he described his regret at not being able to visit Scotland since he became US president, describing the country as a "very special place" with "very special people".
It was confirmed last month that Mr Trump will visit the UK on Friday 13 July, with the trip expected to include a meeting with the Queen.
However, it will not be the full-blown state visit Mr Trump was promised when Prime Minister Theresa May visited the White House in January last year.
The president was recently urged by UK-based supporters to stay away from London during his visit and instead focus on his "ancestral home" in Scotland.
In a letter to the US president, six conservative groups said the move would allow Mr Trump to avoid "major protests, crime and disorder".
And they suggested he meets the Queen at Balmoral to avoid "potential embarrassment" in London.
At the time, the Scottish government said the country had "deep and longstanding ties of family, friendship and business with the United States, which will continue to endure".
It added: "At the same time, we will not compromise our fundamental values of equality, diversity, and human rights and we expect these values to be made clear during the presidential visit to the UK."
Fear of protests
First Minister Nicola Sturgeon has been a vocal critic of Mr Trump, and stripped him of his role as a business ambassador for Scotland in 2015 after he proposed a ban on Muslims entering the United States.
But last year, Ms Sturgeon said she would agree to meet the president if he was to come to Scotland.
Mr Trump made frequent visits to Scotland before becoming president, with his last trip coming in June 2016 when he visited his golf resorts during the presidential campaign.
He cancelled a planned trip to London to open the new US embassy in Vauxhall earlier this year, complaining the move to an "off location" south of the Thames had been a "bad deal".
But critics said his decision may have been driven by a fear of protests.
Commenting on the prospect of Mr Trump visiting Scotland, Scottish Labour leader Richard Leonard said there was a "strong resolve to show that he is not welcome here".
Mr Leonard said Scottish Labour would help campaign for "a mass protest" if a visit went ahead.
He added: "It is my view, and that of the Scottish Labour Party, that someone who holds such misogynist, racist and anti-trade union views, not to mention his dangerous approach to foreign policy, and someone who rejects the Paris Climate Change Agreement, should not be given the 'red carpet' treatment."