Suicide prevention 'not a top priority' in Scotland
A leading charity dealing with suicide prevention has said the Scottish government is not treating the issue as a top priority.
The Samaritans commissioned a poll which indicated 61% of people in Scotland have been affected by suicide.
Almost 40% of those taking part said they would not know who to turn to if they were supporting someone in crisis.
The Scottish government is drawing up a new prevention plan and said it was spending over £1bn on mental health.
In 2016, there were 728 probable suicides in Scotland. This was an 8% rise on the previous year.
Most of those who die are men, 71% in 2016.
Crisis support
The Samaritans poll, which included more than 1,000 people in Scotland, found:
61% of people in Scotland have some experience of suicide
89% would support suicide prevention training for professionals
Almost 40% would not know where to turn if they were supporting someone in crisis
29% have either supported a close friend or family member through feelings of suicide, or lost a close friend or family member to suicide
Samaritans executive director for Scotland James Jopling said: "This shows this issue may not be taken as seriously as it should be; that it's not an issue we are seeing embedded in the Justice Department, in education and how we support young people.
"In other functions of government we are not seeing the reflection of this issue. Our feeling is, it's not being seen on the levels it should be.
"We have a dedicated mental health minister, she should and can be the person to champion our efforts on this and that's what we want to see."
Investing resources
The Scottish government is drawing up a plan for suicide prevention, with the consultation on it closing earlier this week.
Minister for Mental Health Maureen Watt said: "We are investing more and more money in mental health every year.
"The past year (2017/18) we saw for the first time £1bn invested in mental health and now we've got an extra £150m on top of that for this next year.
"Mental health and suicide prevention is a very important part of the Scottish government's actions going forward."

'Kindness and compassion'
Four years ago, 28-year-old Nicola Saunders tried to take her own life.
She had been struggling with mental health problems since she was 10 years old.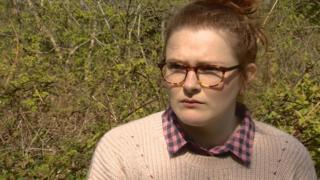 "Physically, I felt as if there was a ball inside of my stomach, that it would squeeze quite a lot and when it squeezed I couldn't bear it, I just wanted to curl up into a ball and scream and cry."
With nobody close who could help her and she says she felt totally alone.
"I was in the psychiatric unit for three weeks. I didn't have any support, I didn't really have any familial support.
"I was discharged and I didn't have any support in place whatsoever. I didn't have anywhere to live at the time and I was basically told that if I was going to leave I would be homeless."
Nicola now runs a survivors group, offering help she felt was missing for her at the time. She is calling for a more open discussion around suicide in Scotland.
"Kindness and compassion is what is needed," she says. "I think we just need to not be afraid to talk about it, openly, then it's not scary and it's like, we can solve this."

Details of organisations which offer advice and support are available at BBC Action Line or you can call for free, at any time, to hear recorded information 0800 066 066.