Counting the cost of a stop-start spring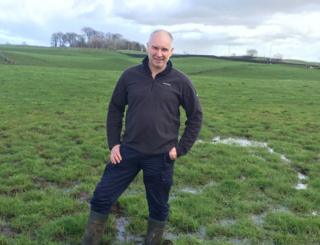 Scotland's growers are stuttering through a stop-start spring, according to NFU Scotland.
Farmers in some areas say they are weeks behind where they might expect to be, while a snapshot of some gardeners and nature lovers suggests they too may have noticed a difference.
"This would be our maternity ward at the moment," says farmer Willie Harper as he makes a difficult passage through mud and puddles across a field close to the farm steading. Usually there would be a lot more grass for livestock to eat.
Mr Harper, who farms near Bridge of Weir and is also a regional chairman of NFU Scotland, says he is not alone in having fields like this.
He blames what he sees as poor weather as far back as last year.
Fodder for livestock and the state of the ground for planting are real issues.
For him, although it is the end of April, it feels more like the start of the month.
Mr Harper says: "There hasn't been a really good spell whether it's to harvest our crops, harvest our grass for fodder and it's had an effect all the way through the winter."
Then came the "Beast from the East" which made even getting to livestock difficult and saw an increase in sheep and cattle deaths.
Last week the Scottish government announced a package of measures to help tackle the impact of recent extreme weather.
"We're at the end of April now and we still haven't broken free from the poor weather," adds Mr Harper.
"Everybody's suffering in farming, it doesn't matter what you're producing."
Further north in Perthshire and the Loch of the Lowes wildlife reserve has a rich landscape - nesting ospreys, beavers, red squirrels, birds and more.
"The leaves coming out on the trees are probably about two weeks, 10 days behind compared to last year," says Rachael Hunter, Perthshire Ranger with the Scottish Wildlife Trust.
Blue tits in a nest box on the reserve for instance have only just starting nesting, last year at this time they already had eggs.
More generally she says spring seems to be coming earlier but not this year.
"I'm only just beginning to see bumble bees," she adds.
"I haven't seen many butterflies yet either."
Gardeners in Scotland may be well used to the vagaries of the weather but this week some parts of Scotland have seen four seasons in a day from sunshine to hail.
For some gardeners it has meant that their pride and joy is not looking how it would usually.
"Normally at this time of year I'd be expecting to see the rhododendrons in full flower," says garden designer Anne Macfie.
Instead they are still just in buds and very little in her garden's east-facing border is as far on as expected.
As a garden designer though, the weather has also kept her back on hard landscaping projects for clients involving pointing or concrete which needs to set above a certain temperature.
"I've given up trying to forecast the weather in Scotland," she says.
"It seems that you get up in the morning and you look out of the window and you do what you can because it's just so unpredictable.
"If we get some decent weather we'll probably catch up but at the moment we are three, four weeks behind certainly."
Back at Willie Harper's Renfrewshire farm and inside a shed cattle and sheep, which would normally be outside by now, are being fed - an added expense.
He says spring usually sets you up for the summer but now "we're going to be chasing ourselves".
"I hope we're going to get a good growing summer to get plenty of fodder, but if we don't, if this weather runs on then there's going to be a real crisis next winter because there's no fodder left in the country.
"I think most of us farming wise are praying for a good summer and a very kind autumn."