Scottish sailor's remains found in France identified 100 years on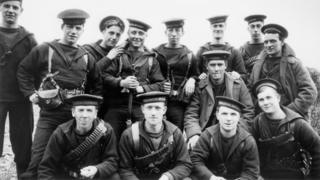 A Scottish sailor whose remains were found near a World War One battlefield has been identified after 100 years.
The MoD previously said it was hoping to trace relatives of two men killed during the Battle of Gavrelle to undergo a DNA test.
But a match was confirmed after an amateur genealogist who read a BBC Scotland story on the appeal traced a nephew of James Cameron Robertson.
The able seamen from the Royal Naval Division will now be buried on 11 July.
Mr Robertson and Andrew Turner Irvine, from the same regiment, both died on 28 April 1917.
The sailors are commemorated on the Arras Memorial in France.
But a set of human remains, found in 2016 while a pipe was being laid, has now provided answers for one family.
Relatives of Mr Robertson will now be invited to attend a full military burial service in July.
Researchers at the JCCC narrowed down the list of missing sailors to two men, who were both 5ft 2in, after the remains were discovered outside Arras in northern France.
The division, which was created by Winston Churchill at the beginning of conflict, consisted of two brigades along infantry lines and ended up fighting in almost all the major battles during the war.
Mr Robertson was born in Aberdeen in 1891 to John Mckay Robertson and Helen Cameron.
He joined the Royal Naval Division at the beginning of the war and served with the Hood Battalion, fighting in Gallipoli and Northern France.
After recovering from a combat-related injury, Mr Robertson was drafted to the Anson Battalion in January 1917.
According to his service record, his last known address was 27 Raeburn Place, Aberdeen.
The Battle of Arras was fought from 9 April to 16 May 1917 and marked the beginning of the spring offensive on the Western Front.
The Allies suffered 159,000 casualties including 46,000 Scots.