Second helicopter plan for Scotland's Air Ambulance Charity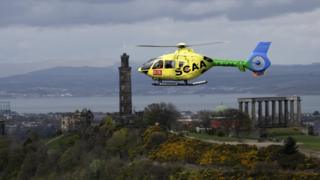 Plans are in place for a new air ambulance funded through charity donations.
Scotland's Charity Air Ambulance (SCAA) hopes to raise £6m for a second helicopter to add to the three existing air ambulances in operation.
The charity has operated an air ambulance since 2013, alongside two funded by the Scottish government.
Health Secretary Shona Robison said the charity's work helps to "save and improve lives every day".
SCAA chairman John Bullough said: "Our highly visible helicopter air ambulance has become a familiar sight as it deploys to time-critical medical emergencies throughout the country.
"Having responded to more than 1,700 emergency call outs, the charity has built a loyal and passionate following of donors, supporters and volunteers."
The charity is in talks with existing and potential major donors to secure the £6m required to launch and sustain a second helicopter for the first three years.
Pauline Howie, chief executive of the Scottish Ambulance Service, said: "We are delighted that plans for a new air ambulance are underway as it will undoubtedly help save even more lives.
"Due to the dedicated public support of SCAA, the charity has been able to undertake hundreds of missions which is a fantastic achievement.
"Air ambulances can save vital time in responding to patients particularly across remote and rural parts of Scotland, and a second helicopter from SCAA will bring additional resilience and capacity to our fleet to help those most in need."
SCAA provides the Scotland's only charity-funded air ambulance, while there are 39 charity helicopter air ambulances operating in England, Wales and Northern Ireland.