Cancer cases rise due to ageing population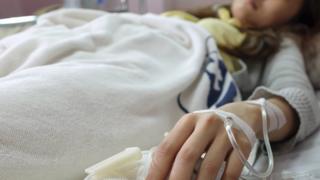 The number of people getting cancer in Scotland has increased over the past decade, but experts said the rise was mainly down to an ageing population.
The latest official figures showed there were 31,331 people diagnosed with cancer in Scotland in 2016, up from 28,899 in 2007.
However, 75% of cancer diagnoses were in people aged 60 and over.
The statisticians said overall there was a 3% decrease in the risk of developing cancer in the past decade.
They said that men still had a higher risk of cancer than women but the gap had closed in the past 10 years.
The age-adjusted incidence rates of cancer have increased by 1.9% for females and decreased by 6.2% for males.
The figures also showed:
Lung cancer remains the most common cancer in Scotland with 5,045 cases diagnosed in 2016.
For the first time, more women than men were diagnosed with lung cancer.
The decrease of 18% over the past decade in men reflects decreases in the prevalence of smoking.
Lung cancer accounted for 16.1% of all cancers in Scotland.
There were 4,636 cases of breast cancer (14.8%) and 3,700 cases of colorectal cancer (11.8%)
For females, the most common cancers are breast, lung and colorectal cancers
Prostate, lung and colorectal cancers are the most common for males
Bowel cancers are the third most common cancer in men and women.
The risk of developing bowel cancer fell by 15% in the past decade in Scotland - by 18% in men and 9% in women.
Rates of thyroid, liver, kidney and pancreatic cancers have increased over time in men and women.
Uterine cancers and malignant melanomas of the skin have increased in women and men respectively.
Almost four in 10 cancers can be attributed to lifestyle factors such as smoking, alcohol consumption, being overweight and sunburn.