Stone-stackers rock up in Dunbar for balancing act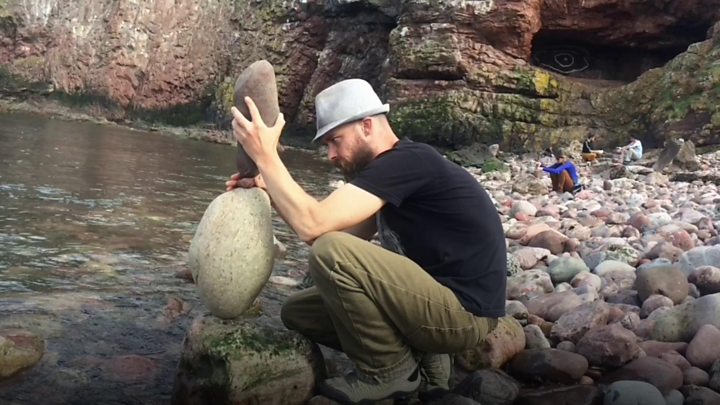 For some it is contemplation, for others it is art or simply an excuse to spend some time alone.
Stone stacking involves balancing rocks and stones in sometimes unbelievable and unlikely ways.
This weekend, stackers from home and abroad are converging on Dunbar in East Lothian for the European Championship.
"It's almost like you're looking at the beach and suddenly a stone will jump out and catch your attention," says James Craig Page, director of Dunbar Street Art Trail, which is putting on the competition and wider workshops.
"It's like it's calling out to go on the sculpture itself and that's when it's like nature is actually speaking to you."
As he talks he is picking up stones, discarding some.
The base, he explains, is key in stone stacking.
Some of the sculptures really do seem to defy gravity.
He calls it a mindful activity which teaches you meditation without even having to try.
"If you spend 20 minutes doing that you really feel rejuvenated and it's like your soul comes alive," he adds.
Some people may be drawn to soft sand, but for stone stackers, what is underfoot on this Dunbar beach - different sizes, shapes and colours of stones - is the draw.
One of the stone stackers is crouching at the edge of the water, his eyes shaded from the sun whose reflection is dancing on its surface.
At first he is still and then he moves with full concentration to place a stone on one which is itself balanced on another.
Sterling Gregory describes this area of coastline as "rock stacker paradise".
He says that where he comes from in Ohio in the United States there can sometimes be "slim pickings" for good stones.
He first saw photos online of rock stacking about five years ago and was captivated.
"There's an infinite number of little puzzles you can make just out of a handful of stones," he explains.
For him it is all about enjoying the process itself and accepting that what you are making is not permanent. It is a learning process which he thinks reflects life more generally.
This weekend's event, which includes workshops and competitions, is attracting people from across the UK and beyond.
"I have a special philosophy," says SP Ranza who is from near Toulouse in France. He has been balancing stones for over a year.
"I practise meditation and when I practise stone balance it's a little bit the same."
The stone-balancing competitions cover both most-artistic and the most number of stones balanced vertically.
"When you gain your first balance there's something beautiful happens," concludes James Craig Page.
"It looks like it shouldn't be there and it's a truly magical thing."