Mother of Moira Jones backs funding for murder victims' families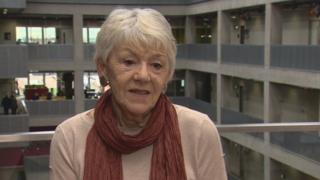 The mother of Moira Jones who was murdered in Glasgow 10 years ago has welcomed new funding to improve support for the families of crime victims.
The Scottish government has awarded £13.8m to Victim Support Scotland.
Part of that will be used to provided murder victims' families with a dedicated case worker.
Bea Jones told BBC Scotland such a move could "help enormously "and avoid people ending up feeling "neglected and alone".
The funding is being made available over the next three years, with £1.2m being invested in a new homicide service.
The aim is to "streamline" the process victims of crime and their families have to go through, reducing the need for them to have to "retell their story" to the various organisations involved.
Moira Jones, 40, was raped and murdered in Queen's Park in Glasgow in May 2008.
Her mother, Bea, has been campaigning for greater support for bereaved families ever since.
Speaking to the BBC's Good Morning Scotland radio programme, she said that at the moment the support system was one of "bits and pieces" with gaps which could often lead to people feeling "neglected and alone".
"Hopefully this one-on-one service will help enormously," she said.
Mrs Jones praised the support her family received from police liaison officers following Moira's death and the subsequent trial.
But she said that even with that "wonderful" support from police, family and friends the trial "just added hell on hell".
"I can't tell you how bad that was," she said.
"People say a trial retraumatises you, but we never stopped being traumatised."
The new funding for Victim Support was announced by Justice Secretary Michael Matheson.
He said: "I am aware that victims and their families often have to turn to multiple organisations to get information about the criminal justice process and find out what support they are entitled to receive.
"This can feel like they are being passed from one organisation to another - adding to their trauma when they are most vulnerable.
"I want to improve the situation and that is why I am announcing funding for VSS to work in partnership with criminal justice and victim support bodies to develop a new approach. Along with the homicide service it will ease the journey through the criminal justice process for victims and their families."
Kate Wallace, chief executive of Victim Support Scotland said: "The creation of the homicide service and the victim-centred approach are very positive new developments and we will be working closely with all our partners to make these a reality."
Since her daughter's death Mrs Jones has set-up the Moira Fund, a charity offering financial support to victims' families.
"We had a wonderful support team in family and friends but not everyone has that and some people's needs are more than others," she said.
"There is also the added stress for so many people of financial struggles because with the loss of a loved one come the expense of a funeral, lost wages, illness - mental and physical - just day-to-day coping and living."
Mrs Jones also spoke of how her work with the Moira Fund, helping other families and victims, aided her own well-being.
"I don't think I'd be here now if I hadn't had that to focus on," she said.
"I did it morning and night and I needed something in my head to keep out all the horrible pictures and things that had happened."
She said she still struggles to look back on memories prior to Moira's death.
But she added that when she does she just "conjures up the smile on her face when she came to see us and I opened the door".
The extended interview with Bea Jones will on the Good Morning Scotland programme on BBC Radio Scotland from 06:00 until 09:00 and later on the BBC iplayer.