Scottish house price rise outstrips UK average again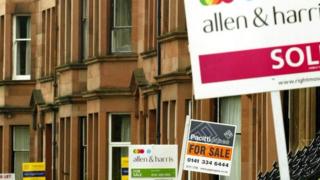 Scottish house prices rose by 6.2% in the year to February, according to a new report.
Official house sales data showed the average price of a property in Scotland in February 2018 was £144,377, up from £136,011 in February 2017.
Across the UK as a whole, the average cost of a home was £225,047, an increase of 4.4% on the previous year.
On a month-to-month basis, prices in Scotland fell 2.7%, compared with a UK fall of just 0.1%.
Average price increases were recorded in all but four of Scotland's 32 local authorities in February 2018, when comparing prices with 12 months ago.
February's price rise continues an upward trend recorded in recent years.
Most expensive
The figures are contained in the UK House Price Index (UK HPI).
The biggest increases were in Argyll and Bute, where prices rose by 13.3% to £144,404, and Edinburgh and West Lothian, where average prices rose 11.2% to £250,986 and £153,230 respectively.
Decreases were recorded in Aberdeen City and Stirling, where prices fell by 1.5% to £159,653 and 0.5% to £174,076 respectively.
Edinburgh was the most expensive place to buy a home in February while East Ayrshire was the cheapest at an average price of £95,000.
Across Scotland, prices rose for all property types when compared with the same month in the previous year.
Terraced properties showed the biggest increase, rising by 7.1% to £119,109, the report showed.
The average price for a property purchased by a first-time buyer was £116,406 in February 2018 - an increase of 6.2% compared to the same month in the previous year.
Meanwhile, residential sales volumes decreased in December by 5.1% when compared with December 2016.
However, volumes fell at a greater rate across the UK.