Number of people in work drops slightly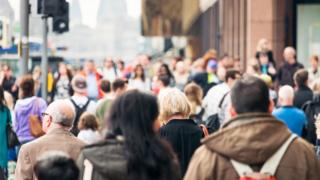 The number of people in work in Scotland fell by 17,000 between December and February, according to the Office for National Statistics.
The number in work dropped to 2,645,000 but the employment rate among people under 65 remained steady at 75%.
There were 115,000 Scots classed as unemployed and looking for work - up 3,000.
The unemployment rate rose slightly to 4.2%, the same rate as the UK-wide figure.
Across the UK, employment increased by 55,000 in the quarter to February to 32.2 million, the highest figure since records began in 1971.
This gave an employment rate of 75.4%, just above Scotland's rate.
The claimant count for Jobseekers Allowance and out-of-work Universal Credit payments rose in Scotland last month by 1,000 to reach 85,000 - a claimant rate of 2.9%.
In Scotland, the number of people classed as economically inactive, including students, those on long-term sick leave, on early retirement, or who have given up looking for work remained steady at 21.7%.
Across the UK the figure fell by 2,000 to 8.7 million in the latest quarter, giving a rate of 21%, a joint record low.
The Office for National Statistics is also reporting that average UK wages rose over the preceding year by 2.8%, slightly below the level of price inflation.
Unemployment rate
Scottish government employability minister Jamie Hepburn said Scotland's employment rate remained high by historical standards.
The SNP MSP said the unemployment rate had decreased by 0.3 percentage points over the year and had been lower or the same as the UK for 13 of the past 14 months.
The UK government's Scottish Secretary David Mundell said: "These figures show that unemployment has risen in Scotland and that is concerning."
The Tory MP said: "With Scotland's economy lagging behind the rest of the UK, it is urgent that the Scottish government takes action to help boost productivity and support jobs."
Scottish Labour's Jackie Baillie MSP said the figures "lay bare the extent of SNP and Tory mismanagement of our economy".
Andy Willox, from the Federation of Small Businesses, said the employment figures made "uncomfortable reading".