Send us your Glasgow Garden Festival pictures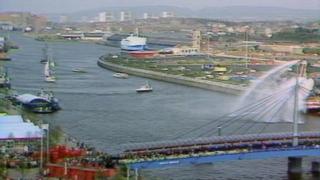 It's 30 years since Glasgow's landmark Garden Festival and we want your photos and memories of the riverside extravaganza.
The National Garden Festival was held in Glasgow between 26 April and 26 September 1988.
The celebrations were opened by the Prince Charles and Princess Diana, and attracted an amazing 4.3 million visitors over 152 days.
If you were there, we would love you to send us any pictures or video you may have to create an online gallery of the Festival to mark the anniversary on Reporting Scotland.
You can email your pictures to scotlandpictures@bbc.co.uk - please mark them Garden Festival in the subject field.
Please give us your name, where you live and brief details about the pictures and let tell us what you remember about the Festival on the Clyde.
Any pictures or footage you send must be your own and if you send in photographs including children, we must have written permission from a parent or guardian of every child featured.
If you want to send your picture from your mobile phone, email them to the same address as above. You can send them from any network or phone.
Terms and conditions
If you submit an image, you do so in accordance with the BBC's terms and conditions.