Strike threat as Prestwick Airport pay talks break down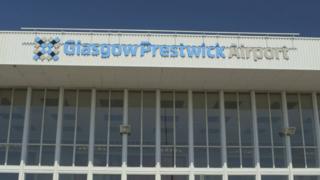 Pay talks between staff unions and Prestwick Airport have broken down, with workers to be consulted on the possibility of industrial action.
The Prospect union called on airport bosses to mirror the pay deals being promised to public sector workers.
The airport is currently in public ownership, although ministers insist it is run at arm's length from government.
Prestwick's human resources director said the offer made to staff was "the maximum amount that could be given".
Staff were offered a 2% pay rise by airport chiefs earlier in the year, but Prospect submitted a counterproposal mirroring the public sector pay deal outlined by Finance Minister Derek Mackay in his latest budget.
Mr Mackay said public sector workers earning £36,500 or less would be guaranteed a 3% pay rise, with 75% of staff groups in line for above-inflation increases.
The government is currently the airport's sole shareholder, but Prestwick bosses stressed that it "operates as a separate commercial entity at arm's length to the Scottish government".
They said the 2% proposal they had made "reflects affordability" and was the most that could be offered.
Human resources director Sonia Rafferty said: "At the beginning of discussions, it was made clear that the business continues to face a number of financial challenges and that this was the maximum amount that could be given.
"As part of this year's offer, we have also extended our no compulsory redundancy pledge for a further twelve months. In addition, we are paying the national living wage with a commitment to increase this to the Scottish living wage by 2020."
Prospect's national secretary for Scotland, Richard Hardy, said it would only cost the airport £50,000 to meet the union's counterproposal.
He said: "The pay policy isn't simply about toeing the line, it's about sending a signal that the airport wants to recruit and retain the key staff it needs to succeed.
"We will now consult our members on the next steps including a possible strike ballot."
Public ownership
Prestwick was taken into public ownership in 2013, with the government buying it for £1 to protect the "asset" of the airport itself and the jobs which depend on it.
It has continued to lose money since, with losses of £8.6m announced in December 2017.
Economy Secretary Keith Brown confirmed to MSPs in February 2018 that "contributions" of £40m had been made so far, but said the airport was "moving in the right direction".
He said the government was "talking to anybody who shows interest" in returning the airport to the private sector - but stressed that it "must operate at arm's length from the Scottish government" in the meantime, saying there is "no role for ministers in specific commercial discussions".