Clara Ponsati's lawyer says she will hand herself in to police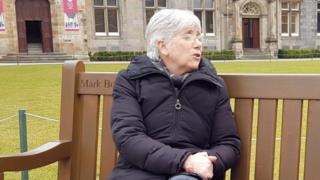 The lawyer representing a former Catalan minister being threatened with legal action in Spain has said she will hand herself in to Police Scotland.
Aamar Anwar said he had spoken to the authorities on behalf of Clara Ponsati
He expects her to attend an Edinburgh police station within "the next few days".
Ms Ponsati, who was education minister in the Catalan government, was made the subject of a European arrest warrant on Friday.
The Spanish authorities are pursuing Catalan leaders for their role in holding an independence referendum.
Ms Ponsati, along with other democratic politicians in Catalonia, faces charges of rebellion with violence which could see her spend 30 years in jail.
'Degrading treatment'
Mr Anwar told the BBC's Good Morning Scotland radio programme: "My instructions are that this is a political persecution - a systematic attempt to criminalise the desire for independence.
"We believe that if she is sent back to Spain then she will suffer inhumane and degrading treatment and that the independence of the judiciary in Spain cannot be guaranteed.
"Quite frankly the charge of rebellion that Clara faces is a charge of rebellion with violence against the unity of the Spanish state, which means she faces up to 30 years in prison."
He added: "What she was, was an education minister."
Ms Ponsati fled to Brussels with former leader Carles Puigdemont, then returned to the University of St Andrews where she had previously worked.
A Spanish judge reactivated warrants for Mr Puigdemont, Ms Ponsati and three other former ministers on Friday.
Mr Puigdemont has now been detained in Germany, his lawyer confirmed on Sunday.
Scotland's first minister, Nicola Sturgeon, said she supported the right of the Catalan people to determine their own future but the Scottish authorities were obliged to follow due process and ministers were not permitted to intervene.
She added: "We strongly oppose the Spanish government's decision to seek the arrest and imprisonment of independence supporting politicians.
"The fact that our justice system is legally obliged to follow due process in the determination of extradition requests does not change those views."
Spain's central government took direct control of Catalonia and sacked officials, following the region's banned independence referendum in October.
A spokesman for St Andrews said: '"We're aware that a warrant has been issued, we're staying in close touch with Clara and will continue to monitor developments very carefully."
An extradition lawyer's verdict
Karen Todner has worked on many high-profile extradition cases including those of the hackers Gary McKinnon and Lauri Love.
The lawyer told BBC Scotland she thinks Ms Ponsati has two grounds on which to challenge the European Arrest Warrant.
Firstly, Ms Todner said Scotland could only extradite suspects if the alleged offence was also punishable under Scots law.
She said rebellion was not a specific criminal offence in Scotland, although there is a crime of treason, which covers crimes of disloyalty to the Crown.
Ms Todner also said the request for extradition could be challenged if it was shown to be "not properly motivated".
"If this can be shown to be a politically motivated request for an extradition warrant then she could defeat the application for extradition," she said.
The lawyer said it was rare for European Arrest Warrants to be refused for this reason.
"Obviously, as part of the European Union we are supposed to believe that all requests are fair and proper," she said.
"For something to be politically motivated in the European system is very unusual."
Ms Todner said the extradition decision was purely for the Scottish courts to decide and there could not be any interference from the Scottish government.
She said Ms Ponsati would appear in court within 48 hours of her arrest but the extradition hearing would take months and could then be challenged all the way to the High Court.
"This is a process that could go on for quite a while," she said.
"Extradition is not about guilt or innocence.
"It is about matters such as human rights and whether any political influence is coming forward in the extradition process.
"One of the key things about the European Arrest Warrant system is that there is no evidence called in respect of the actual case.
"The defendant will not see the evidence. It is literally whether they will be dealt with fairly in the requesting country."
Military dictator
Former presiding officer of the Scottish Parliament, Tricia Marwick, told BBC Scotland the judicial process had been "tainted" by politics in Spain.
"The Spanish prime minister is quite clearly using the judiciary to solve what should be a political problem, not a legal problem," she said.
"It seems difficult to escape the conclusion that people are being persecuted for winning a vote."
Before the Spanish Civil War in the 1930s Catalonia enjoyed broad autonomy from Spain but that was suppressed under the leadership of military dictator General Franco.
When Franco died, the region was granted autonomy again under the 1978 constitution.
Ms Marwick, a former SNP MSP, said there were "echoes of Francoism" in the actions of the Spanish government.
"That maybe because Francoism in Spain never actually disappeared," she said.