Almost nine in 10 Scots 'satisfied with bus journeys'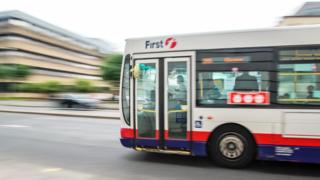 Most Scottish bus passengers are happy with their services, according to a transport watchdog.
Transport Focus found almost nine in 10 people using buses were satisfied with their last journey.
The annual Bus Passenger Survey revealed customers particularly wanted punctuality, reliability and value for money.
But the body acknowledged there was still work to be done to improve fare costs for passengers.
The eighth annual Bus Passenger Survey includes views from more than 4,000 bus passengers in Scotland and 48,000 across Britain.
The survey findings showed:
65% of passengers were satisfied that their trip provided value for money.
78% of passengers were satisfied with the punctuality of their service.
Once on the bus, 85% of passengers were satisfied with the journey time.
Transport Focus director David Sidebottom said: "Passengers in Scotland, as in the rest of Britain, tell us that they want a bus service that is punctual, reliable and offers value for money.
"It's good to see overall satisfaction so high, though there is more that could be done to improve value for money ratings."
The Confederation of Passenger Transport Scotland (CPT) welcomed the results.
Director George Mair said: "Passengers have once again given a ringing endorsement to their local bus services. 
"An average satisfaction score of 89% is an extraordinary result and one many other industries can only aspire to achieve.
"It is also worth noting that once again Scottish operators have recorded levels of satisfaction amongst the highest across the UK."
Overall passenger satisfaction was 88% in England, outside of London and 90% in Wales.
The Transport Focus survey results differ from a recent survey carried out by Citizens' Advice Scotland.
It found 64% of those asked were either dissatisfied or very dissatisfied by the frequency of scheduled services and 56% feel the same about the punctuality of their buses.
Transport Scotland welcomed the latest survey's findings but said there was always room for improvement.
A spokesman said: "We are committed to supporting services and tackling the historic decline in bus passenger numbers.
"The forthcoming Transport Bill aims to give local authorities the flexibility to pursue partnership working, local franchising, or running their own buses, allowing local authorities to better respond to local needs.
"We are also looking to improve the information available to passengers so that bus travel is more accessible and attractive."